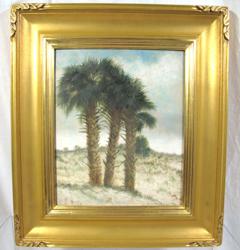 It is 100% authentic and original and the winning bidder will receive a letter stating such
Eastern Shore, DE (PRWEB) August 13, 2012
Estate Auctions Inc. is pleased to announce a rare opportunity to own a one of a kind original painting by Ben Austrian. American Icon artist Ben Austrian is famous for his chick and chicken paintings, but many collectors are realizing the rising value of his Palm Tree/Beach paintings which were done when he wintered in Palm Beach, Florida.
Much of Austrian's oeuvre reflects his masterful realistic paintings of feather and fur, and his trompe l'oeil style paintings of still lifes. Entering mid-life, Austrian shifted his interest to the softer, poetic painting of tonalism. He produced misty twilight renditions of the Berks County countryside, and illuminated images of the landscape of Palm Beach.
"Knowing that his paintings are in such demand and wanting to assure our bidders here, on eBay, we hired the foremost expert in the world on Ben Austrian artwork, Valerie Malmberg of Greshville Antiques and Fine Art in Boyertown, Pennsylvania, to confirm the authenticity of this piece. After looking it over most carefully, she assured us, it is 100% authentic and original and the winning bidder will receive a letter stating such from Valerie Malmberg." says Norb Novocin, owner of Estate Auctions, Inc.
The auction closes Monday, August 20th at approximately 10:00 PM EST. Interest in this rare painting continues to increase as the closing draws near.
Rare and valuable antiques are the norm for the Novocin's. They continue to satisfy the taste of a loyal customer base and have even published a book about these experiences. Getting Sold On Ebay, The Treasure Hunter's Guide To Making Money, which has received stellar reviews and is receiving national attention.
To learn more about the Novocins and Estate Auctions, Inc. visit them on eBay, user ID EstateAuctionsInc or follow them on Twitter @KnowsEbay. Do you have a valuable antique you would like to sell on eBay? Call for consigning information at 1-800-573-3508. You can find their new book Getting Sold On Ebay, The Treasure Hunter's Guide To Making Money at http://GettingSoldOnEbay.com or Amazon.com.