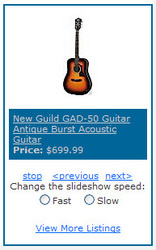 It is becoming more and more necessary for eBay sellers to advertise their listings outside of eBay to be successful, and our auction templates provide that.
San Francisco, CA (PRWEB) June 25, 2008
New perks for eBay sellers help boost traffic and listing exposure. eBay sellers now have a new online sales tool to increase the reach of their product listings, with the introduction of the Slideshow Widget by ClassifiedFlyerAds.com.
Developed in response to a customer's request, this widget comes in two styles - vertical or horizontal - for fitted placement on any blog or website, and seven color choices. The slideshow widget automatically transitions through all of the eBay seller's listings at a speed set by the viewer. With links to the seller's listings, profile, and eBay store (if applicable), this new tool directs visitors to the eBay seller's listings for purchase. ClassifiedFlyerAds.com members can submit the widget embed code to as many websites or blogs as they wish, as well as provide it to friends or partners for placement on other sites, having the potential to greatly increase the exposure of the eBay listings.
Other new sales features offered by ClassifiedFlyerAds.com include the addition of new eBay auction template styles, which now total over 25 different variations. The auction templates feature several photo uploads, customizable title and item description, logo upload option, and seller contact information. The templates can be used to display listings on eBay, but also offer the surprising benefit of automatic distribution to dozens of online directories, such as Oodle, GoogleBase, Lycos, and Vast.
"eBay auction templates have been popular among the power sellers and store owners on eBay for some time now. With the sales widget and auction templates, we offer something that other template providers do not; the means to expose listings to other web venues along with online listing syndication," says Go Smart Solutions COO, Michael Thompson. "It is becoming more and more necessary for eBay sellers to advertise their listings outside of eBay to be successful, and our auction templates provide that."
This new development comes on the heels of the recent release of the company's eBay store advertising campaign, which uses the file feed from an eBay store to promote its listings all over the web. The system places each listing into a web page which highlights the product and links back to the seller's eBay store for purchase. This feature has gained popularity among eBay store owners because of the minimal setup and cost involved.
ClassifiedFlyerAds.com, owned by parent company Go Smart Solutions, LLC, is an online tool popular with online sellers, real estate agents, employers and auto dealers that allows individuals to promote a product or service via classified ads throughout the Web. A user-friendly process allows clients to produce professional flyers, which are then posted to a variety of online directories and optimized for maximum exposure on the most popular search engines. A cost-effective way to promote homes or autos for sale, job postings or other services and items, ClassifiedFlyerAds.com offers many add-on functionalities to its flyers, including virtual tours, live view tracking, embeddable widgets and more. For more information, visit http://www.classifiedflyerads.com.
Note: ClassifiedFlyerAds.com is not affiliated with eBay, Oodle, GoogleBase, Vast, Lycos or any of the other directories to which the site submits. Directory logos, trademarks and brands used throughout the Web site are the property of their respective owners.
###