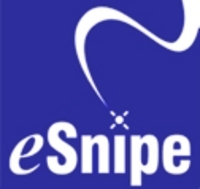 There's no doubt eSnipe works
(Vocus) June 29, 2010
Unteather yourself from your desktop and start winning eBay auctions with eSnipe, the latest creation from former Microsoft programmer Tom Campell.
eSnipe allows auction bidders to make bids from their iPhone, Droid, Blackberry, Palm Pre, or other mobile device without keeping the bidder trapped in front of his/her computer stuck in the middle of a futile bidding war.
"A huge percentage of our customers view their eBay auctions on mobile devices," Tom said. "They've been clamoring for a way to make their bids when they're away from home. Well, now they can with eSnipe!"
eSnipe is available at esnipe.com and from the SnipeIt! mobile site. The app can also be configured as a bookmarklet for users of Apple's Safari, making it possible for SnipeIt! mobile to read the eBay auction page and for users to enter an auction item number automatically. It also appears in the iPhone cleanly and easily.
The same version works on Droid, Blackberry, Palm Pre, and other mobile devices equipped with web browsers.
Once downloaded onto your mobile device, using eSnipe for eBay auction success is a simple three-step process:

Copy the item number into the streamlined eSnipe web page.
Enter eSnipe username and password.
Enter the maximum bidding amount.
Rovatron, eSnipe's 24/7 bidding bot, then takes over, automatically placing bids 6 seconds before auction closes.
"There's no doubt eSnipe works," Tom adds. "We place more than 12,000 bids a day during the week and more than double that on Sunday. At peak periods, we can place more than 300 bids per second."
eSnipe is free to join and offers 30 free bids in the first 14-day period. Go to esnipe.com to sign up.
# # #