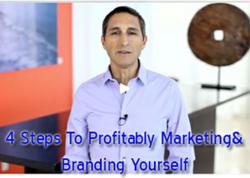 In order to take advantage of this very powerful area of leverage, and use it to grow your business and make more profit, you must understand what marketing is, how it works, and how to do it
Austin, Texas (PRWEB) May 14, 2013
Eben Pagan has just released a new free report that shares 4 powerful steps to show entrepreneurs how to brand and market their products and services. This report corresponds with the release of his latest educational product called 'Accelerate'. To download a copy of the report, titled "The Profitable Marketing & Branding Manifesto" please visit http://blackboxsocialmedia.com/eben-pagan-ebook.
"No other aspect of your business can consistently give you such high returns, so quickly, as an improvement or breakthrough in your marketing," says entrepreneur, author and business speaker Eben Pagan. "I've seen a new marketing campaign double a business overnight, and more."
"I've had many advertisements and marketing campaigns generate from 2-10 TIMES as many customers, spending the same amount of money, just by changing a headline, offer, design, or some combination of elements. You will almost never get a 2-10 times multiplication in your results from another area of your business."
Inside this free report, Mr. Pagan will cover the following:
>The two types of branding - and why most companies use the WRONG one when they
spend money to market themselves
>What branding actually is, and how it works on a psychological and emotional level
>How to combine direct marketing and branding together - to make both a lot more
powerful
>How to use these strategies to get a lot more customers, grow business, and
also grow profits and income
The report also comes with a couple of PDF exercise downloads, and a video from Eben
walking you through the steps to identifying your own brand "hot buttons" and using the
strategies to build your brand and your sales.
"In order to take advantage of this very powerful area of leverage, and use it to grow your
business and make more profit, you must understand what marketing is, how it works, and how to do it," continues Mr. Pagan.
To download your own copy of this ebook, please visit http://blackboxsocialmedia.com/eben-pagan-ebook.