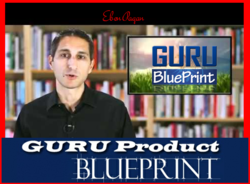 After you watch the video, make sure to send or submit your exercise- or better yet, the video or other content you create!" states Mr. Pagan. "I'm going to pick the 5 that I think are the best and give away 4 Ipads and a new MacBook Pro to the winners
Austin, Texas (PRWEB) July 07, 2012
Eben Pagan, the creator of GURU Product Blueprints: How To Sell Advice & Information Using "Emotional Intelligence", recently released his first video called 'Emotional Intelligence' where he teaches viewers how to turn their knowledge into informational products. To watch the video, please visit http://blackboxsocialmedia.com/guru-product-blueprint-video1.
While the Guru Product Blueprints won't be available for purchase until July 17, his first video gave incentives to viewers to take action before hand by submitting some of their videos by Monday. Heres what Eben Pagan had to say about the release of his first video:
"After you watch the video, make sure to send or submit your exercise- or better yet, the video or other content you create!" states Mr. Pagan. "I'm going to pick the 5 that I think are the best and give away 4 Ipads and a new MacBook Pro to the winners."
The deadline to submit your video to Mr. Pagan is Sunday and the winners will then be announced Monday.
So what is the Guru Product Blueprints?
Eben Pagan's GURU Product Blueprints will be a combination of his best marketing and info product trainings, plus a series of coaching webinars and live events. In the content of the 10-week training, Eben will walk the members through how he created his top selling products – which have done over a million dollars in sales each. Members will also get templates and instruction for creating their own products, based on his models. The program will cover books, video programs, audio programs, consulting, group coaching, membership programs, continuity, live events, and much more
"The Guru Product Blueprints includes all the tools, templates, tutorials, and videos that describe the step-by-step process to making money on the Internet," says Black Box Social Media Co Creator Nick Bridges. "There is an exact guide of how to set up an online business that sells information. Every online product he's ever created has made more than $1 million in revenue, so Eben Pagan knows exactly what he's talking about."
To watch the video and download his 'Emotional and Informational Needs' assessment worksheet, please visit http://blackboxsocialmedia.com/guru-product-blueprint-video1