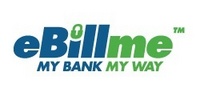 We know the impact of the rising gas prices, especially during the summer vacation months
WILMINGTON, Del. (PRWEB) July 2, 2008
The eBillme process is fast and easy to use. Online shoppers simply select eBillme at checkout when completing their orders. An eBill, or electronic invoice, is e-mailed to the customer confirming the purchase, and provides instructions on paying the eBill through online banking. Consumers then log on to their bank's Web site, and pay the invoice through available funds in their checking or savings account. Following the purchase, consumers can visit the Gas Card Promotion page on the eBillme website to submit the short form to receive the free Gas Card. Customers will have the opportunity to select a Gas Card from Shell, ExxonMobil, or Chevron. *
"We know the impact of the rising gas prices, especially during the summer vacation months," says Marwan Forzley, President and CEO of eBillme. "We wanted to offer a special promotion for retailers to give their customers some economic help to ease this burden while giving them the opportunity to try secure cash checkout with eBillme. Our payment option offers consumers a way to shop online with increased protection and without interest fees which leads to higher average order values, more first-time buyers, and more repeat business for merchants."
Because shoppers pay directly from their online bank account with eBillme, they don't release any financial information online. This helps consumers manage their spending and debt, while better safeguarding themselves from identity theft and fraud risks. eBillme's buyer protection program takes security a step further. Provided at no cost to shoppers and retailers, the buyer protection features have the same or a better level of buyer protection than premium credit cards. Protection features include a return guarantee, price guarantee, in-transit protection, and fraud protection. Consumers can shop with confidence knowing their eBillme transaction is guaranteed and protected.
The Gas Card promotion is available at participating eBillme merchants. New merchants who launch eBillme before September 30th are also eligible for the promotional offering. For more information on the eBillme Gas Card promotion and the participating merchants please visit https://www.ebillme.com/index.php/inserts/gas/.
ABOUT eBillme
eBillme™ is the only online payment solution that extends the convenience of online banking to the merchant's checkout, reducing the security risks of shopping online for both consumers and retailers. No financial data is exposed over the Internet to the retailer, and the payment transaction is securely transferred from the customer's bank to the retailer's bank. Consumers can shop online, by catalog or through call centers, and pay for their purchases at their bank, credit union, or bill pay portal, with the security and convenience of online banking. eBillme allows retailers to access the over 84 million Americans who use online banking. For more information, please visit us online at http://www.eBillme.com or our blog, http://blog.ebillme.com/.

eBillme is not affiliated with Shell, ExxonMobil, or Chevron. eBillme and the eBillme logo are ™ and © MODASolutions Incorporated. All other trademarks and copyrights mentioned herein are property of their respective owners.