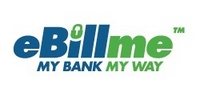 We are proud to welcome these merchants to our eBillme family of leading online retailers
WILMINGTON, Del. (PRWEB) September 2, 2008
These eCommerce merchants join the other leading online retailers experiencing the benefits of eBillme's secure cash checkout option for shoppers. The latest merchants to offer eBillme online and in the call center through Cardinal Centinel include: eImprovement.com's network of stores, which include the award-winning eFaucets.com, the premier kitchen and bathroom dealer offering a full range of kitchen and bathroom products, as well as LightingCatalog.com, Comp-U-Plus, offering the latest computer hardware, electronics, software, and household goods at everyday low prices, and CyberPower, one of the nation-wide leading computer system manufacturers.
"CardinalCommerce is excited to bring merchants a fast, easy, and simple way to connect to eBillme's checkout option," says Matt McDowell, VP Merchant Services, CardinalCommerce. "With security and convenience being major concerns for online shoppers, our Cardinal Centinel technology allows merchants to easily meet the needs of their customers by enabling alternative payment brands, like eBillme, complete with a secure online bank connection."
These new merchants can also take advantage of eBillme's various online shopping promotions. Through eBillme, merchants can now offer their customers promotions, including money back savings and the eBillme Gas Card Promotion for first-time eBillme customers to receive free $10 or $20 gas cards with qualified purchases at participating merchants. A complete listing of the eBillme promotions can be found by visiting http://tinyurl.com/5n3zdg.
eBillme is easy to use. When shoppers choose the option at checkout, their order is confirmed with an eBill sent to their e-mail address. Consumers simply pay the eBill through their online checking or savings account—the same way they pay utilities, loans, insurance, and other bills. The transaction occurs securely, bank to bank, with no personal or financial information required or transmitted over the Internet.
Because shoppers pay directly from their online bank account, they don't release any financial information online. This helps consumers manage their spending and debt, while better safeguarding themselves from identity theft and fraud risks. eBillme's buyer protection program takes security a step further. Provided at no cost to shoppers and retailers, the buyer protection features have the same or a better level of buyer protection than premium credit cards. Protection features include a return guarantee, price guarantee, in-transit protection, and fraud protection. Consumers can shop with confidence knowing their eBillme transaction is guaranteed and protected.
"We are proud to welcome these merchants to our eBillme family of leading online retailers," says Marwan Forzley, President and CEO of eBillme. "CardinalCommerce shares in our dedication to providing a successful checkout experience and understands the appeal of eBillme for online merchants to attract new customers, reduce fraud, increase average order values, and strengthen customer loyalty. We continue to see an increased demand for credit card alternative payment options as consumers struggle with credit card debt and rising interest. We are thrilled to be the cash solution for both retailers and consumers and look forward to our continued relationship with CardinalCommerce to bring eBillme to more merchant sites."
ABOUT eBillme
eBillme™ is the only online payment solution that extends the convenience of online banking to the merchant's checkout, reducing the security risks of shopping online for both consumers and retailers. No financial data is exposed over the Internet to the retailer, and the payment transaction is securely transferred from the customer's bank to the retailer's bank. Consumers can shop online, by catalog or through call centers, and pay for their purchases at their bank, credit union, or bill pay portal, with the security and convenience of online banking. eBillme allows retailers to access the over 84 million Americans who use online banking. For more information, please visit us online at http://www.eBillme.com or our blog, http://blog.ebillme.com/.
ABOUT CardinalCommerce
CardinalCommerce Corporation is the global leader in enabling authenticated payments, secure transactions and alternative payment brands for both eCommerce and mobile commerce. Cardinal Centinel® enables payment brands such as Verified by Visa, MasterCard® SecureCode®, PayPal™, eBillme™, Bill Me Later®, Google™ Checkout, MyECheck, NACHA® Secure Vault Payments (SVP), Ukash™, eLayaway™, Ebates™, Amazon Payments™, and more to a network of over 30,000 merchants and merchant service providers. Our mobile commerce platform, branded Cardinal MAX™, makes it easy for merchants to sell through mobile commerce by linking them directly with consumer mobile phones. Cardinal's proprietary and easily deployable technology provides consumers, merchants, credit/debit card issuers, and processors the ability to conduct authenticated Internet, wireless and mobile transactions safely and securely. Headquartered in Cleveland, Ohio, with facilities in the United States, Europe, and Africa, Cardinal services a worldwide customer base.