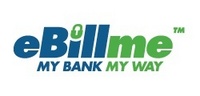 eBillme's technology addresses a growing demand for truly secure, online payment methods that aren't credit based
WILMINGTON, Del. (PRWEB) September 17, 2008
"This recent financing represents a significant milestone for eBillme and comes at a time of exciting company growth," says Marwan Forzley, President and CEO of eBillme. "We will use this funding to further our merchant acquisitions and our expansion into new markets and consumer segments. Canaan Partners is highly regarded in the investment industry, and we are excited to work with them to drive even greater growth for our company."
eBillme transactions occur securely, bank to bank, with no personal or financial information required or transmitted over the Internet. Because shoppers pay directly from their online bank account, they don't release any financial information online. This helps consumers manage their spending and debt, while better safeguarding themselves from identity theft and fraud risks. eBillme's buyer protection program takes security a step further. Provided at no cost to shoppers and retailers, the buyer protection features have the same or a better level of buyer protection than premium credit cards. Protection features include a return guarantee, price guarantee, in-transit protection, and fraud protection. Consumers can shop with confidence knowing their eBillme transaction is guaranteed and protected.
"eBillme's technology addresses a growing demand for truly secure, online payment methods that aren't credit based," says Maha Ibrahim of Canaan Partners. "eBillme allows consumers to shop online with confidence that each transaction is protected, and it gives merchants an opportunity to capture new sales. As the alternative payments industry continues to grow, we are excited to help eBillme continue their market leadership and expand their payment offering across multiple channels."
About eBillme™
eBillme is the only online payment solution that extends the convenience of online banking to the merchant's checkout, reducing the security risks of shopping online for both consumers and retailers. No financial data is exposed to the retailer, and the payment transaction is securely transferred from the customer's bank to the retailer's bank. Consumers can shop online, by catalog or through call centers, and pay cash for their purchases at their bank, credit union, or bill pay portal, with the security and convenience of online banking. eBillme allows retailers to access the over 84 million Americans who use online banking. For more information, please visit us online at http://www.eBillme.com or our blog, http://blog.ebillme.com/.
About Canaan Partners
Canaan Partners invests in visionary entrepreneurs and provides them the networks, insights, and operational guidance required to build high-performance technology and healthcare companies. For 20 years, they have taken an active and committed role in the companies in which they invest, and have completed more than 69 mergers and acquisitions and 53 IPOs. With $3 billion under management and a worldwide footprint, the firm's technology team is committed to catalyzing the growth of innovative companies in the digital media, communications & mobility, enterprise, and clean tech industries. Among its successes are DoubleClick, the leading online advertising solution; Match.com, the most popular online dating site in the world; CommerceOne, the company that pioneered B2B ecommerce; Capstone Turbine, first to market and world's leading producer of commercially viable microturbine energy products; and VOIP equipment supplier Acme Packet, which was one of the top ten performing tech IPOs of 2006. Other Canaan technology investments include Active Networks, BharatMatrimony, Blurb, Cortina, GroundWorks, ID Analytics, Tremor Media, and SuccessFactors. Canaan has offices in California, Connecticut, India, and Israel. For more information visit: http://www.canaan.com.
About Celtic House Venture Partners
Celtic House Venture Partners is a leading venture capital firm focused on early-stage investments in information and communication technology companies in Canada and Europe. Since 1994, Celtic House has funded over 60 companies and committed over $500 million—more than 70% to concept-stage start-ups—and has completed over 20 mergers and acquisitions and IPOs. Its investments have been among the most successful in their respective regions: Cambrian Systems, Skystone Systems, and Extreme Packet Devices in Ottawa; PixStream and Sandvine in Waterloo; Abatis Systems and OctigaBay Systems in Vancouver; and Bookham Technology and nCipher in the UK. Celtic House is currently working with more than 20 portfolio companies, including Camilion Solutions, Cavendish Kinetics, Diablo Technologies, eBillme, Fresco Microchip, Morega Systems, RedMere Technology, Third Brigade, VirtenSys and ViXS Systems, from its offices in Toronto, Ottawa, and London, UK. For more information, please visit http://www.celtic-house.com.