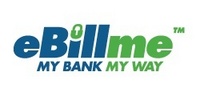 For an online retailer, the checkout page is critical to not only convert a browser into a buyer but to also create customer loyalty and customer satisfaction
WILMINGTON, Del. (PRWEB) July 15, 2008
"Examining Alternative Payment Methods That Generate High ROI's" will be presented on Wednesday, Aug. 6 at 11:50 a.m. and is a must-attend event for all merchants considering or already offering alternative payment options. As the creator of eBillme, the most secure cash payment option for retailers, Forzley will discuss how alternative payment options help retailers build trust with customers, how many payment options a retailer should offer on their site, and the ROI of alternative payment options.
Forzley is an industry expert in online payments and eCommerce. As the CEO of eBillme, he has provided consumers with a secure and familiar way to pay, merchants with the opportunity to increase sales and reduce costs, and banks with a new way to leverage the existing online banking industry.
"For an online retailer, the checkout page is critical to not only convert a browser into a buyer but to also create customer loyalty and customer satisfaction," says Marwan Forzley, President and CEO of eBillme. "As consumers look for better ways to manage their spending and limit their risks of fraud, alternative payment options continue to become appealing offerings. We're hoping this panel discussion will highlight the benefits of alternative payment options for retailers and show them the impact that these offerings can have on their customer relationships and their bottom line."
Forzley will be joined on the panel by executives from Shoplet and Crutchfield, both eBillme merchants. All merchants and eTail attendees are also invited to visit eBillme at Booth #39 during the conference to learn more about the online banking alternative payment option.
ABOUT eBillme
eBillme™ is the only online payment solution that extends the convenience of online banking to the merchant's checkout, reducing the security risks of shopping online for both consumers and retailers. No financial data is exposed over the Internet to the retailer, and the payment transaction is securely transferred from the customer's bank to the retailer's bank. Consumers can shop online, by catalog or through call centers, and pay for their purchases at their bank, credit union, or bill pay portal, with the security and convenience of online banking. eBillme allows retailers to access the over 84 million Americans who use online banking. For more information, please visit us online at http://www.eBillme.com or our blog, http://blog.ebillme.com/.