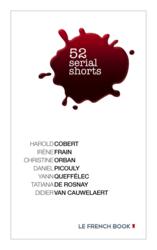 This collection embodies what we are trying to do: to bring great, entertaining writing from France to new readers.
New York, New York (PRWEB) November 29, 2012
Le French Book is feeling festive and is giving away a sneak preview of what is in store for 2013 with a holiday special: a buy-two-get-one-free e-book giveaway. People who purchase any two of their top mysteries and thrillers from France will receive an exclusive e-book of great reads on Christmas day. The gift is a pre-release selection from the upcoming 13-volume series of short stories from some of France's top contemporary writers, all literary legends in their own right.
The series is called 52 Serial Shorts and is a zany, surprising and intellectually stimulating collection of stories written by seven of France's top writers—Tatiana de Rosnay, Didier Van Cauwelaert, Yann Queffélec, Daniel Picouly, Christine Orban, Irène Frain and Harold Cobert. These hard-hitting literary giants, which include two Goncourt prizewinners and one of France's most-read authors, have written among them upwards of 175 acclaimed works of literature.
"We're very excited about this collection of short stories. It is rare to have so much talent brought together in one place," says Le French Book founder Anne Trager. "We wanted to give our readers a sneak preview of what we have planned for 2013. This collection embodies what we are trying to do: to bring great, entertaining writing from France to new readers."
The stories were written in the form of a writing game—one author began the story, another continued it, and so on—that was first developed by French Surrealists in the 1920s. The resulting seven-author stories are sometimes wacky, always very clever, and a real study in writing skill, mixing the styles, feelings and predilections of each author.

Tatiana de Rosnay is a household word in both France and the United States, who ranks as one of France's top ten novelists and one of the most-read French authors. Her Sarah's Key sold two million copies in English and three million in French.
Didier Van Cauwelaert is a French author of Belgian descent, who won the Prix Goncourt in 1994 for One Way. His books are translated into over twenty languages.
Yann Queffélec also won the Prix Goncourt, in 1985 for The Wedding, which is one of thirty-two novels and essays he has written.
Daniel Picouly, writer and television personality, wrote his first novel with the help of Daniel Pennac, and now has fourteen novels and nearly forty other works to his name, including children's books and comics.
Christine Orban is a bestselling French novelist best known for her explorations of love, desire and female psychology, with over twenty years of writing behind her.
Irène Frain, novelist, historian and journalist, is a major figure in French literary circles who began her career as a professor at the Sorbonne. She has over thirty books to her name.
Harold Cobert is the youngest of the crowd. He has written six major tomes about the French revolutionary Mirabeau, and three novels, one of which one the Prix du Style, for literary style.
About Le French Book
Le French Book (http://www.lefrenchbook.com) is a New York-based digital-first publisher specialized in great reads from France. Founder Anne Trager says, "There is a very vibrant, creative culture in France, and the recent explosion in e-reader ownership provides a perfect medium to introduce readers to some of these fantastic French authors." Anne has lived in France more than half of her life, has 26 years of experience in the translation business and 16 in publishing. Co-founder Fabrice Neuman is French and the company's tech consultant. He is one of France's foremost proponents of e-books and one of the first French journalists to write about them in the mid-1990s. The core team also includes the American translation editor Amy Richards, who is based in Ohio and has a long, award-winning career in writing and editing. The company's motto is, "If we love it, we translate it."
©2012 Le French Book, Inc. All rights reserved. Information is subject to change without notice.