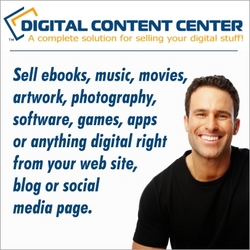 Selling Ebooks has never been easier
Knoxville, TN (PRWEB) September 14, 2010
DigitalContentCenter.com is a leading service provider that enables consumers to sell downloads including ebooks, music, movies, artwork, photography, software, games, apps or anything digital.
"Selling Ebooks has never been easier" explains Art DeVaughn, Director of Operations. "Through our service an ebook can be sold using Google Checkout, PayPal, Authorize.net or any of our integrated payment processors from an authors web site, blog or social media page. Authors can even use email marketing to sell ebooks."
In addition to integration with Google Checkout, DigitalContentCenter.com offers over 50 features including PDF Protection to help authors sell ebooks. The ability to sell tangible merchandise items like paper back books and cd's is also included.
"Digital Content Center is a complete solution for selling ebooks and all your digital stuff," says Mr. DeVaughn. "It's features and pricing make selling ebooks affordable and straight forward."
Digital Content Center also offers a complete line of Ebook Publishing Services including Ebook Cover Design, Kindle conversion, iBook Conversion, Ebook MicroSites and more. Visit DigitalContentCenter.com for more information or call and talk with a professional advisor for free.
About DigitalContentCenter.com
DigitalContentCenter.com is a privately held company based in Knoxville, Tennessee and owned by Web Services Corporation Inc.
Contact Information:
DigitalContentCenter.com
865-686-5713
# # #