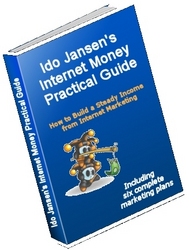 the brass tacks of Internet commerce
West Palm Beach, FL (PRWEB) July 23, 2008
New e book shows how to earn steady online income. Author shares real-life Internet marketing lessons. The 41-page ebook is based on the real-life experiences of Ido Jansen, an Internet marketer who has given up a comfortable 15-year career in sales and marketing after realizing that he wouldn't be able to achieve his dreams if he stayed as a salaried employee. Jansen has dabbled in other money-making endeavors but none, he said, has grabbed him like Internet marketing did. After only a year as a full-time Internet Marketer, Jansen said that he is already earning a respectable online income that is steadily increasing almost everyday.
Internet Money Practical Guide is Jansen's effort to explain "the brass tacks of Internet commerce," in a simple and easy-to-understand manner. Aware of the fact that thousands of e books on making money online exist, Jansen is quick to point out that his book does not make any false promises. In fact, it does not make any promise at all. "This is a no-nonsense book, no false (or any) promises," Jansen stresses. "It provides a gateway to the world of Internet money that is professional and legitimate."
According to Jansen, the guide is ideal for both newbie Internet marketers and seasoned online business owners. The ebook's centerpieces are the 6 step-by-step easy-to-follow marketing plans, sorted by required budget and purpose, that readers can implement right away. The guide also highlights methods and products that the author has used and tested himself. A tips and tools section at the end of the ebook will come in handy for readers who are really serious at becoming successful Internet marketers.
Internet Money Practical Guide is available for FREE at http://www.practicalinternetmoney.com.
For more information about Internet Money Practical Guide please email the author at ido @ pintmoney.com.
###