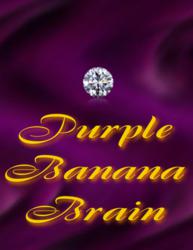 The quality of personalized service of PurpleBananaBrain is unsurpassed.
(PRWEB) August 23, 2012
The once best-kept secret among seasoned authors is spreading like wildfire among self-publishers and new authors entering the literary ranks. PurpleBananaBrain.com, the quirky-named site, is now a go-to for aspiring authors and new authors alike. The most popular, professional services include eBook cover design, book trailers, book review, and story graphics for social media. The story graphics, in particular, have been receiving rave reviews.
Ken Silver, author of String Theory, said of PurpleBananaBrain's eBook cover design service, "It's far beyond what I had hoped for." Many authors, including Silver, have said the personalized service and quality of work is more than they expected.
PurpleBananaBrain designer says, "authors are now getting a head start on their ebook covers in preparation for next year's Book Expo of America (BEA) Book Fair," which according to selfpublishingnews.com is the, "largest, most popular industry book fair and publishing event in the United States. Every year, more than 2,000 credentialed media personnel are in attendance along with over 100,000 international attendees, authors, publishers, agents and buyers." The expo is scheduled for May 29-June 1, 2013 in Javits Center, New York City.
Not only does the site provide services for the publishing industry, it sells a popular guide (How to Publish an E-Book on Kindle) for those who want to write an ebook, but don't know where to start or how to go about it. The popular guide approaches writing an ebook with vivid illustrations, a bit of humor and lots of examples, and of course, a unique viewpoint that makes for a very friendly, non-intimidating read.
According to one self-publishing author, KindleBookPro's How to Publish an Ebook on Kindle has been a lifesaver. "I had never written a book and didn't know where to start. I found lots of resources but none that actually made me take that leap. A colleague suggested I read KindleBookPro's guide and I haven't looked back. A tiny investment for a huge return." The downloadable ebook (in pdf format) sells for $5 and includes 24-hour email support if you have any questions getting your book on Amazon's Kindle. Many authors have found publishing on Amazon's Kindle very lucrative, with the right marketing for their book.
For more information on PurpleBananaBrain's ebook cover design, book reviews, book trailers, and story graphics, visit http://www.PurpleBananaBrain.com.