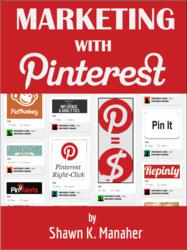 Marketing with Pinterest helps individuals quickly and easily grasp what Pinterest is and how they can utilize this hot new social media platform effectively.
Cranberry Township, PA (PRWEB) October 30, 2012
Shawn Manaher, Founder and CEO of The Content Authority, has announced the release of his brand new eBook "Marketing with Pinterest." This comprehensive and insightful guide is aimed at online entrepreneurs hoping to improve their social media effectiveness by taking full advantage of all that Pinterest has to offer marketers.
"I wanted to remove the barrier for individuals and businesses to understand how they can use Pinterest as a dynamic marketing engine for success," explains Manaher. "Marketing with Pinterest helps individuals quickly and easily grasp what Pinterest is and how they can utilize this hot new social media platform effectively."
Over the last few months, the wildly popular content sharing service has risen above other referral sources, such as Yahoo! Organic Traffic, to become the fourth largest driver of referral traffic in the world. This impressive fact alone makes the site a powerful tool that marketers cannot ignore.
Written with both seasoned and inexperienced marketers in mind, Manaher's book provides actionable steps that not only help users optimize their profiles, but also help them build their brand's exposure, generate loads of referral traffic, and profit from their content.
The eBook discusses several relevant topics, including:

What online marketers need to know about the platform
How to determine whether a business is ready for Pinterest
Tips for developing a Pinterest strategy
Effective tools to help users supercharge their success
How to establish a Pinterest presence
The do's and don'ts of being a pinner
How to master the art of driving referral traffic and pinning for profit
How to measure the influence of an individual or business brand
Marketing with Pinterest is available as a Kindle download from Amazon.com. The eBook can be downloaded free of charge between October 30, 2012 to November 1, 2012. Thereafter, interested parties can purchase the book for an affordable price of $2.99.
Mr. Manaher is available for interviews and comments. Please contact him via email at shawn@thecontentauthority.com.
About Shawn Manaher
Shawn Manaher is the president and CEO of iMarketing 2030, LLC, and is the company founder and CEO of The Content Authority. He knows what customers want and how to meet their needs. With an impressive set of credentials and the experience to back him, Shawn has successfully nurtured The Content Authority into the industry leader it is today. With the vision and drive to create winning strategies for Internet marketing, there is no doubt The Content Authority's list of services and content solutions will continue to grow.
About The Content Authority
The Content Authority is a leading custom content provider specializing in writing services, submission services, and content management. Their main goal is to provide businesses and individuals with affordable, high quality products and services that strengthen their marketing campaigns. TCA delivers truly personal attention and exceptional customer service to both current and prospective clients. With an integrated and progressive approach to content creation and management, entrepreneurs can ensure they drive their business forward.
For more information, please contact support@thecontentauthority.com.
###