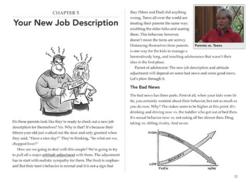 Chicago, IL (PRWEB) May 03, 2013
ParentMagic Inc, the creator of the best selling 1-2-3 Magic Parenting, has released "Surviving Your Adolescents" as an e-book. To complement the reading experience the book features over 30 videos, including real interviews with teens and parents, and an interactive glossary.
Parents who are looking for tools to improve their relationship with their teen will find valuable and practical advice. The print edition of "Surviving Your Adolescents" has already sold more than 130,000 copies and is now in its 3rd edition. 
"It is my hope that multimedia content alongside the text will illuminate the ideas in a new way," says Dr. Thomas Phelan, author of "Surviving Your Adolescents" and "1-2-3 Magic Parenting."
This is not ParentMagic's first foray into digital content; as a complement to the 1-2-3 Magic program, ParentMagic also developed a toolkit app available via the iOS app store and released in late 2012. 
Parents and professionals interested in the ebook can find it by searching within iBooks or iTunes. Click here to view the book on iTunes, https://itunes.apple.com/us/book/surviving-your-adolescents/id611169002?mt=11.