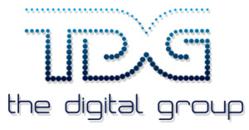 The e-business bundle offers new customers: three months of free Amazon Cloud Hosting via EverestHosting.com.au (a TDG Business); three months free email marketing services via SendNow.com.au (a TDG Business); and a free joint press release via PRWeb.
Melbourne, Australia (PRWEB) February 28, 2013
In an Australian first, The Digital Group (TDG), one of Australia's leading digital solutions companies has announced its e-business bundle aimed at progressive ecommerce businesses who want to ensure they are operating on the best platforms available.
The e-business bundle offers new customers a free sample of TDG's services: three months of Amazon Cloud Hosting via EverestHosting.com.au (a TDG Business); three months of email marketing services via SendNow.com.au (a TDG Business); and a joint press release to be published online on a top PR distribution platform.
"For many business owners or operators, areas such as hosting and email marketing services are not necessarily front-of-mind," explained TDG Managing Director Ashley Farrugia. "It often requires a failure of some description for these areas to be reviewed. Our e-business bundle is designed to stimulate this review process and allow businesses to experience the benefits of our service offerings in a pro-active environment, rather than as a reactive measure".
"Meanwhile, Everest is a 'plug and play' solution for companies wanting to benefit from using Amazon's enormously popular cloud computing services," he furthered. "A lot of businesses want to be able to tap into the AWS service but lack the in-house technical capabilities and/or time to manage such a transition. This is where Everest Hosting comes in. We have the capability to plug a client immediately into our AWS hosted cluster".
Everest Hosting offers cloud-based services that are fully scalable so clients can easily manage and cope with the dynamic requirements of the online marketplace. It operates out of the brand new AWS Sydney data center and features auto-scaling, automated load balancing, CloudFront access and automated back-ups to Amazon S3 built within a multi-user cluster.
SendNow is an Australian email service provider that is deployed on the Amazon SES platform, ensuring some of the highest delivery rates available in the marketplace.
"To further assist businesses in taking advantage of our fantastic E-Business Bundle, TDG will manage the full transition of both hosting and email marketing at no charge," Farrugia added.
Melbourne-headquartered TDG offers a unique "one-stop" online facilitation business. It helps businesses and organizations in all aspects of their online business and growth strategy.
TDG's expertise in the online area stems partially from its own experiences in launching, growing and operating the following websites:
DealMonkey – Australia's largest aggregation site of daily deals
DealFREE – Australia's only daily deal site requiring no upfront financial commitment
PETBox – Australia's only vertical aggregating product specials in the pet vertical
All the Catalogues – An aggregation site of all retail-based catalogues published in Australia
Doggish - Australia's number one ranked classified site for the sale/purchase of dogs
Horsez – A leading Australian site for the sale/purchase of horses
"For every problem a client may encounter, or every strategy they may wish to pursue, we have a bank of knowledge and expertise compiled from the hardest teacher of all—first-hand experience," the TDG chief noted.
TDG also has one of the largest digital marketing teams in Australia. The group manages nearly two million non-incentivized email addresses and offers some powerful solutions across EDMs, co-registrations, lead generation, member acquisition, post-sale web traffic, SEO and SEA.
For more information about TDG, visit http://www.thedigitalgroup.com.au.
To get started on the e-business bundle, log on to http://www.thedigitalgroup.com.au/e-business-bundle.