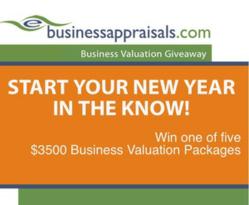 Know Your Worth....Know Your Way!
Vienna, VA (PRWEB) November 11, 2011
With strong merger and acquisition activity in the third quarter of 2011, access to current business valuations remain critical for any business. eBusinessAppraisals.com, having delivered over $6 billion in business valuations across countless business industries, is now providing five randomly selected business owners a free professional business valuation, each retailing for $3,500. Interested business owners should register for this contest no later than December 31, 2011. CLICK HERE to visit the dedicated contest page.
Under this first ever giveaway, each selected company will receive a ValuEdge business valuation package, the company's most popular package featuring the Custom Triple Approach Value Report. This report combines an Asset Based Approach, an Income Based Approach, and a Comparables Approach. The valuation package also includes a recast balance sheet, financial projections, historical financial trends, an extensive live value presentation and dedicated time with a Valuation Expert. All information is focused on how to meet the business owner's business objectives.
Business appraisals or valuations help good companies become great in several ways. Understanding the value of the business allows owners and executives to strategize and implement internal changes that enhance and grow ultimate value, while meeting the business owner's exit-strategy objectives.
eBusinessAppraisals.com delivers a suite of financial and company valuation services that foster lifetime relationships with their clients. They serve company owners and entrepreneurs at all business stages, from the initial acquisition or start-up to the successful sale of the company.
All entrepreneurs and business owners are strongly encouraged to obtain an annual business valuation. This annual valuation gives every business owner a deep and complete understanding of his or her business' financial value and tracks value growth.
The critical financial information delivered by eBusinessAppraisals.com's annual valuations provides business owners the knowledge and foresight necessary to implement the strategic changes that ultimately increase the value of their business.
eBusinessAppraisals.com's valuation experts provide value-enhancing solutions to company owners. Their financial and valuation experts utilize a proprietary valuation approach to deliver a superior level of experience and expertise to businesses of all revenue ranges including the small business valuation. eBusinessAppraisals provides the most accurate, real-world picture of a company's critical financial status, allowing any business owner to set and achieve their objectives with confidence.
###