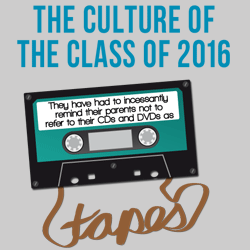 Lexington, KY (PRWEB) August 21, 2012
eCampus.com and the creators of "The Mindset List" have teamed up again to visually represent the state of mind and situation for this year's incoming freshman: the Class of 2016; a world where during their lifetimes, suitcases always had wheels, and two-thirds of the independent bookstores in the United States had already closed for good.
Since 1998, Beloit's former Public Affairs Director Ron Nief and Keefer Professor of the Humanities Tom McBride, have captured significant insights into the "givens" of a student's life.
The list, which reveals through startling facts just how different life is experienced across generations in the face of changes to technology and culture, is available in its entirety through the project's website, which also serves as a resource for educators and counselors (http://www.themindsetlist.com). Are you hip enough to predict the latest changes? Take the quiz on The Mindset List's Facebook page.
eCampus.com frequently invests in content that educators, counselors, parents and students alike can use and has turned The Mindset List into a key document in its gallery of infographics (http://www.ecampus.com/infographics.asp), which relate to important aspects of student life.
In addition to publishing these infographics, eCampus.com now sells and rents the book co-authored by Mr. Nief and Mr. McBride entitled The Mindset Lists of American History: From Typewriters to Text Messages, What Ten Generations of Americans Think Is Normal (John Wiley & Sons, Inc publishing, Copyright 2011). This book takes the "Mindset List" approach and dramatizes what it was like to grow up in every American generation since 1880, showcasing the remarkable changes that help determine what we consider to be normal over the years.
About the "Mindset List:"
The "Mindset List" has received praise from NBC Nightly News and The Seattle Times. Additionally, it has received news coverage by CBS News, Boston Globe, Chicago Tribune, USA Today, and Fox News as well as various international publications. In 2009, TIME magazine declared the mindset list was a new phrase in the American Lexicon. It is released every year in mid-August via webcast and press release.
About eCampus.com:
eCampus.com, a major online retailer, provides textbooks to consumers in the easiest, fastest and cheapest manner. David Thomas, founder of Wendy's, was one of eCampus.com's original founders in 1999. eCampus.com is committed to providing the best selection of deals to students at the college and university level.