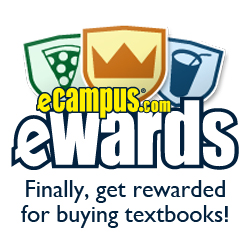 Lexington, KY (PRWEB) August 14, 2012
eCampus.com (http://www.eCampus.com), the online book retailer that has saved customers more than $20 million in textbook rentals since 2009, recently introduced its eWards loyalty program. eWards is the ultimate loyalty program for buyers of college textbooks and merchandise. Just like everything on eCampus.com, earning and redeeming eWards for exclusive rewards and VIP benefits is easy, simple and fun.
There are two ways to enroll, after a purchase, or via the customer's eCampus.com account. In fact, just signing up earns members 50 points. Once enrolled, members receive a 5% off deal that they can easily share via Facebook, Twitter, or email. If a friend completes a purchase through the shared link, referral points will be awarded to the original customer.
The eCampus.com eWards program lets students use the power of their social network to save money on future textbook purchases. Members can come back to eCampus.com throughout the semester and continue to earn points by simply sharing deals and products to their social network. This way, members collect points throughout the semester that can be used toward next semester's textbook purchases.
In addition to social media and email, members also earn eWards when buying, renting and selling books and other merchandise – and they can trade in their eWards points to earn rewards and discounts toward shipping and future purchases.
After each purchase, members will be awarded badges that they can share with their friends and contacts throughout social media. Badges represent college progression from freshman year to graduate school and beyond.
One profitable feature for members is the ability to earn eWards when renting books—two points per dollar. Given that 79% of responders in a recent eCampus.com survey said that they rented their textbooks, earning points from renting could easily become the most popular and lucrative consumer feature.
Customers also have a chance to earn both cash and eWards when selling books back to eCampus. eWards members will receive one point per dollar when selling books back to eCampus.com or through the Marketplace, where books are sold to other students.
Since 1999, eCampus.com has been the trusted source for cheap, new and used textbooks. eTextbooks were added in 2008 followed by textbook rentals in 2009. Since eWards was introduced, eCampus.com has seen an astounding percentage of customers joining the program after just their first order. There is no doubt that eWards will quickly become the most popular online textbook rewards currency. Join today at http://www.eCampus.com/ecampus-ewards.asp.
About eCampus.com: Since its founding in July of 1999, eCampus.com has grown into a major online retailer providing cheap textbooks for college and high school students. eCampus.com's stated mission is to provide the easiest, fastest and cheapest way for college and university students to rent textbooks, buy textbooks and sell textbooks. eCampus.com believes the Internet buying experience should be fun and that shopping for textbooks should be as fast and convenient as possible. The company makes a personal commitment to every customer that eCampus.com will be the best source for everything they need.