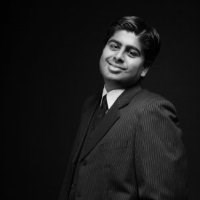 ... as the co-creator of the groundbreaking Certified Ethical Hacker (CEH) certification that launched ethical hacking as a mainstream career, Bavisi will lend an interesting perspective to the event.
Albuquerque, NM (PRWEB) June 07, 2013
The Colloquium, one of the largest gatherings of academics, government, and industry is led by Dr. William Maconachy, a former Director of the NSA and the current Director of Academic Affairs of Capitol College. Bavisi is scheduled to deliver his keynote address, entitled "The Cyber Security Quagmire: Finding the Panacea" which will aim to elucidate the information security industry's successes, failures, and next steps. Bavisi is a natural fit for The Colloquium in their mission to work together to define current and emerging requirements for information assurance education and to influence and encourage the development and expansion of information assurance curricula, especially at the graduate and undergraduate levels. As the co-founder and President of one of the largest certification bodies in the world, EC-Council and the co-creator of the groundbreaking Certified Ethical Hacker (CEH) certification that launched ethical hacking as a mainstream career, Bavisi will lend an interesting perspective to the event.
EC-Council's Certified Ethical Hacker (CEH) certification program is now just one product in a suite of certifications, exams, and courses that all train different kinds of critical skills in information security – from the basics of penetration testing to secure coding. The delivery systems for the knowledge that EC-Council teaches are becoming increasingly diverse as well with the launch and continuous updates of iClass and iLabs. iLabs is a cyber-security range of virtual machines that allows students to practice all the concepts and methodologies taught in EC-Council's IT Security Certification courses while applying the skills they are learning. iLabs allows students to dynamically access a host of Virtual Machines preconfigured with vulnerabilities, exploits, tools, and scripts from anywhere with an internet connection. iClass is EC Council's live, online, instructor-led training platform. iClass makes the entire catalog of vendor neutral certifications available to students in multiple schedule formats, dates, and times.
Bavisi also brings an interesting global perspective to the CISSE audience with the launch of the EC-Council Foundation, a not-for-profit initiative conceived of by the founders of EC-Council to raise awareness, build capacity across nations, and ultimately promote global peace. Another major focus of the Foundation is to ensure the global community becomes more aware of the immediate need for online child protection. Toward these goals, one key initiative of the foundation is Global CyberLympics; a unifying body for Global Cyber Defense. Global CyberLympics is a series of cybersecurity-related competitions including: Forensics, Penetration Testing, Computer Network Defense, and Capture the Flag. The Foundation also supports select international high school, collegiate and professional cyber competitions. EC-Council Foundation's mission is to foster collaboration and participation by Global Digital Citizens to become advocates for safe secure on-line activities through education.
The Colloquium is active throughout the year and holds an annual conference in June. Conference information is available on the Colloquium website at http://www.cisse.info.
About EC-Council
The International Council of E-Commerce Consultants (EC-Council) is a member-based organization that certifies individuals in various e-business and security skills. EC Council is the owner and developer of the world-famous E-Council Certified Ethical Hacker (CEH), Computer Hacking Forensics Investigator (C|HFI), Certified Security Analyst (ECSA), License Penetration Tester (LPT) programs, and various others offered in over 60 countries around the globe. These certifications are recognized worldwide and have received endorsements from various government agencies including the US Federal Government via the Montgomery GI Bill, and the US Government National Security Agency (NSA) and the Committee on National Security Systems (CNSS) certifying EC-Council's Certified Ethical Hacking (CEH), Network Security Administrator (ENSA), Computer Hacking Forensics Investigator (CHFI), Disaster Recovery Professional (EDRP), Certified Security Analyst (E|CSA) and Licensed Penetration Tester (LPT) program for meeting the 4011, 4012, 4013A, 4014, 4015 and 4016 training standards for information security professionals and most recently EC-Council has received accreditation from the American National standards Institute (ANSI).
For more information about EC-Council, please visit http://www.eccouncil.org