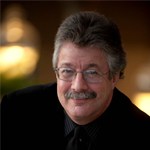 I say the things people think but are either too afraid to say or think are "just too hard" to get done. I expect to annoy about 20% of the audience with total political incorrectness
Albuquerque, NM (PRWEB) July 31, 2012
Winn Schwartau is scheduled to present at Hacker Halted which will be held from October 29-31st in Miami, FL. His keynote presentation will commence on October 29th. Hacker Halted will draw a wide range of information security professionals with different job functions in different industries. EC-Council's conference is the perfect platform for thought-leaders such as Mr. Schwartau to present cutting-edge information on the latest trends and issues plaguing the cyber community.
Mr. Schwartau is famous for his thought-provoking and controversial presentations, which have a way of getting his audiences riled up. His presentations have become standard fare and dogma in the cyberwar and cybersecurity communities.
"I felt the Hacker Halted audience would be able to understand the kinds of challenges needed if we are going to truly ever have strong economic and national cyber defense." Mr. Schwartau said. He continued, "I say the things people think but are either too afraid to say or think are "just too hard" to get done. I expect to annoy about 20% of the audience with total political incorrectness."
Winn's presentation on "Solving the Cyber Security Hiring Crisis" could not come at a more critical time as the need for increased protection of government networks, critical infrastructure and private sector enterprises is at an all time high.
According to Mr. Schwartau, "The information security industry needs a top-down change in the way security experts are chosen." Mr.Schwartau went on to say, "A stronger management over the skill sets needed to provide the best possible cyber defense will make for a much stronger and effective workforce." To find out more information about Winn Schwartau's presentation at Hacker Halted or to attend the conference, please visit: http://www.hackerhalted.com/2012/.
About Hacker Halted:
EC-Council's flagship information security conference, Hacker Halted, aims to raise awareness towards increased education and ethics in information security. This information security conference series covers in-depth topics into the development of security issues plaguing the world. It provides hands on training and presentations about the latest hacking techniques and how to defend the organization against disastrous security breaches. Hacker Halted features many world renowned subject matter experts and high-level speakers, as well as some of the best technology companies showcasing their products and services. Hacker Halted provides the most sought after technical training and certification classes offered through Hacker Halted Academy by top training companies and led by well-respected instructors. Hacker Halted Academy is the ideal platform for one to acquire cutting edge skills and essential knowledge required to combat today's IT security challenges. From its inception in 2009, Hacker Halted has grown from a single annual conference in Miami to a global conference series with events held in Malaysia, Dubai, Egypt, Singapore, Mexico, and Japan.
About EC-Council:
The International Council of E-Commerce Consultants (EC-Council) is a member-based organization that certifies individuals in cyber security and e-commerce. It is the owner and developer of 20 security certifications, including Certified Ethical Hacker (CEH), Computer Hacking Forensics Investigator (CHFI), Certified Security Analyst, Licensed Penetration Tester (ECSA/LPT) and Certified Chief Information Security Officer (C|CISO). EC-Council has trained over 90,000 security professionals and certified more than 40,000 members. EC-Council's certification programs are offered by over 450 training centers across 87 countries. These certifications are recognized worldwide and have received endorsements from various government agencies including the U.S. Department of Defense via DoD 8570.01-M, the Montgomery GI Bill, National Security Agency (NSA) and the Committee on National Security Systems (CNSS). EC-Council also operates EC-Council University and the global series of Hacker Halted information security conferences. For more information about EC-Council visit http://www.eccouncil.org, follow @ECCouncil on Twitter, LinkedIn or visit EC-Council's Facebook page.