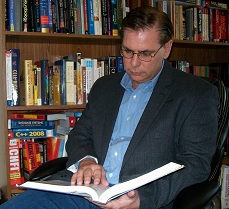 ... even a thoroughly audited and pen tested organization may have major vulnerabilities in their encryption.
Albuquerque, NM (PRWEB) August 01, 2012
This three day course is an in depth examination of the field of cryptography. All modern security, at some level, depends on cryptography. This course explores the science of cryptography teaching students the history of cryptography, modern cryptographic methods, cryptography in the cloud, and how to use techniques like cryptanalysis to break cryptography. The course also covers closely related topics such as hashing and digital certificates.
"This course is just about cryptography, not security in general as opposed to other courses where most of the time spent is on general security concepts," explained Mr. Easttom who is the author of 13 computer science books including two computer security textbooks used at universities around the globe.
Mr. Easttom also went on to explain, "Most penetration testers do not understand enough about cryptography to really test an organization's encryption. That means that even a thoroughly audited and pen tested organization may have major vulnerabilities in their encryption."
The Hacker Halted Academy will host the Secure Encryption and Countermeasures course as well as many other advanced hacking courses such as Certified Ethical Hacker (CEH), Advanced Mobile Hacking & Forensics, Advanced Application Security, Advanced Metasploit Decoded and many more!
To learn more about Hacker Halted Academy or to get more details regarding Mr. Easttom's course, please visit: http://www.hackerhalted.com/2012
About Chuck Easttom
Chuck holds a host of IT certifications. He currently has 7 provisional patents, all related to computer science and 4 related to computer security. One of those patents regards a new method of steganography and another involves the invention of a new, more stable file system. Mr. Easttom is also the inventor of a method for quantifying network security that is being taught at several universities, and most recently has developed a new approach to creating ghost drives. He has taught various security related courses for several years and has over 10 years of teaching experience. He is also a frequent consultant on various computer related court cases including both criminal and patent cases. While Mr. Easttom has a broad range of security expertise, his passion has always been cryptography.
About Hacker Halted
EC-Council's flagship information security conference, Hacker Halted, aims to raise awareness toward increased education and ethics in information security. This information security conference series covers in-depth topics into the development of security issues plaguing the world. Hacker Halted features many world-renowned subject matter experts and high-level speakers, as well as some of the best technology companies showcasing their products and services. Hacker Halted provides the most sought after technical training and certification classes offered through Hacker Halted Academy by top training companies and led by well-respected instructors. Hacker Halted has grown; from a single annual conference in Miami to a global conference series with events held in Malaysia, Dubai, Egypt, Singapore, Mexico, and Japan since its inception in 2009.
About EC-Council
The International Council of E-Commerce Consultants (EC-Council) is a member-based organization that certifies individuals in various e-business and security skills. EC Council is the owner and developer of the world-famous E-Council Certified Ethical Hacker (CEH), Computer Hacking Forensics Investigator (C|HFI), Certified Security Analyst (ECSA), License Penetration Tester (LPT) programs, and various others offered in over 60 countries around the globe. These certifications are recognized worldwide and have received endorsements from various government agencies including the US Federal Government via the Montgomery GI Bill, and the US Government National Security Agency (NSA) and the Committee on National Security Systems (CNSS) certifying EC-Council's Certified Ethical Hacking (CEH), Network Security Administrator (ENSA), Computer Hacking Forensics Investigator (CHFI), Disaster Recovery Professional (EDRP), Certified Security Analyst (E|CSA) and Licensed Penetration Tester (LPT) program for meeting the 4011, 4012, 4013A, 4014, 4015 and 4016 training standards for information security professionals and most recently EC-Council has received accreditation from the American National Standards Institute (ANSI).
For more information about EC-Council, please visit http://www.eccouncil.org.