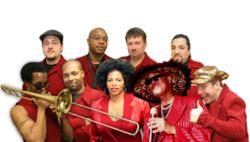 VCU is busting brackets again this year and we're so excited to show our support!
Richmond, VA (PRWEB) March 17, 2012
EastCoast Entertainment's (ECE) exclusive act, the Right On Band, releases a new music video tribute to Virginia Commonwealth University's (VCU) men's basketball team and their coach, Shaka Smart. The song, "Shaka's Got 'Em Believing 2012" is a remix of the 2011 parody of the popular song, "Hooked on a Feeling." The original parody received over 100,000 views on YouTube and national attention during VCU's run to the final four in the 2011 NCAA Men's Basketball Tournament.
"VCU is busting brackets again this year and we're so excited to show our support!" says band leader Nigel Holland. "We couldn't be prouder of VCU and wish them the best in their 2012 tournament appearance."
The Right On Band, a 70's show band based out of Virginia Beach, Virginia, is an authentic "10-piece show band" with a full horn section. The Right On Band regularly performs all around the world, with notable performances for President Obama's Inauguration and the openings for such well known acts as KC & the Sunshine Band, The Doobie Brothers, Hall & Oates, The Commodores, and The Village People. The Right On Band is America's "Ultimate Show Band."
EastCoast Entertainment, the exclusive representative of the Right On Band, represents 85 exclusive acts and more than 10,000 other artists. With over 30 years of experience, ECE has delivered more than 1 million unforgettable experiences to shows spanning the country and the globe.
Headquartered in Richmond, Virginia, EastCoast Entertainment is the largest, full-service entertainment agency in the country, arranging entertainment and producing events from coast to coast and around the world. ECE operates ten offices and delivers the largest direct resource of exceptional talent and quality production services in the industry. ECE's mission is to make every celebration an unforgettable experience by combining client-centered business practices with world-class talent and comprehensive event production services.
For more information on Right On Band, visit EastCoast Entertainment, call (855) ECE-4FUN or email info(at)eastcoastentertainment(dot)com. For a limited time, enjoy a free download of Shaka's Got 'Em Believing 2012 Remix.