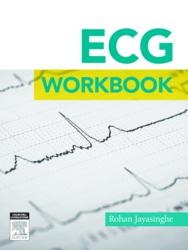 will enhance students' and clinicians' ability to correctly and efficiently interpret ECGs in a busy clinical setting
Sydney, New South Wales (PRWEB) March 26, 2012
Elsevier Australia is proud to announce publication of Professor Rohan Jayasinghe's 'ECG Workbook'.
This is a highly-recommended cardiology reference that will enhance students' and clinicians' ability to correctly and efficiently interpret ECGs in a busy clinical setting.
As well as being an ideal university book for clinical year medical students in Australia and New Zealand, the 'ECG Workbook' will be of use to JMOs, nurses, paramedics and hospital-based GP trainees.
The author takes a logical, systematic approach to ECG diagnosis. He presents real case studies throughout, giving readers a realistic picture of ECG diagnoses – normal and abnormal – that are commonly encountered in local clinical practice.
Each ECG in this excellent Elsevier publication is presented with a brief clinical synopsis. The reader is guided through the ECG to make the clinical diagnosis and decide on the appropriate management.
Readers proceed through the 'ECG Workbook' at their own pace, answering structured questions for each ECG. This creates a systematic process for ECG interpretation that will serve both students and clinicians well in future work.
Buy a copy of the ECG Workbook
ABOUT THE AUTHOR
Rohan Jayasinghe MBBS (Hons-1st Class)(Sydney), MSpM, PhD, FRACP, FCSANZ, MBA (Newcastle) – Rohan Jayasinghe is Professor of Cardiology at Griffith University's School of Medicine, as well as the Director of Cardiac Services/Cardiology within the Gold Coast Health District.
Professor Jayasinghe is a world expert on the topic of coronary artery disease in the Indo-Asian race. He is an international expert on the classification of the complete occlusion of the coronary artery for the purpose of intervention, on cardiovascular prevention, and the role of yoga in heart health.
He is noted for his invention of Prosthetic Mitral valve for Percutaneous delivery and deployment and is internationally recognised for his coronary and vascular interventions. Professor Jayasinghe sits on the editorial board of the Australasian Heart Journal.
ABOUT ELSEVIER
Elsevier is a world-leading provider of scientific, technical and medical information products and services. The company works in partnership with the global science and health communities to publish more than 2,000 journals, including The Lancet and Cell, and close to 20,000 book titles, including major reference works from Mosby and Saunders. Elsevier's online solutions include SciVerse ScienceDirect, SciVerse Scopus, Reaxys, MD Consult and Nursing Consult, which enhance the productivity of science and health professionals, and the SciVal suite and MEDai's Pinpoint Review, which help research and health care institutions deliver better outcomes more cost-effectively.
A global business headquartered in Amsterdam, Elsevier employs 7,000 people worldwide. The company is part of Reed Elsevier Group PLC, a world-leading publisher and information provider, which is jointly owned by Reed Elsevier PLC and Reed Elsevier NV. The ticker symbols are REN (Euronext Amsterdam), REL (London Stock Exchange), RUK and ENL (New York Stock Exchange).