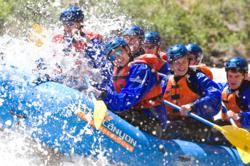 "The best way to describe the Battle of the Bighorn is as an obstacle course that meets the river."
Cañon City, Colorado (PRWEB) February 27, 2013
What do watermelons, baby oil, popsicles, the Arkansas River and puzzles have in common? They're all part of the new Battle of the Bighorn team-building experience at Echo Canyon River Expeditions. This one-of-a-kind whitewater rafting trip, specifically designed for groups, combines physical activity with problem solving, and inevitably results in a lot of laughter and bonding between teammates. The timed challenge takes place on one of the most popular sections of river in the United States, Bighorn Sheep Canyon on the Arkansas River in Cañon City, Colorado.
"The best way to describe the Battle of the Bighorn is as an obstacle course that meets the river," explained Andy Neinas, owner of Echo Canyon River Expeditions. "It's a fun, unique experience that's perfect for corporate team-building events, wedding parties, sports teams and family reunions. We tested it out with a fund-raising event last summer, and the response was so positive that we decided to roll it out this year."
The teams are assigned a series of challenges to complete while rafting the Class II and III waters. These range from the expected, inflating their rafts and paddling backwards, to the unexpected — and often hilarious. Teams must retrieve a watermelon coated in baby oil that's been dropped in the river and complete a three-dimensional memory puzzle at the end of the day.
There are additional assignments along the way. Brain Freeze requires all team members to eat popsicles before the boat can leave the beach. In Neoprene Squeeze, one person from each team chooses and dons a wetsuit from a pool of ice water, then removes it before returning to the raft. To complete Running on Empty, one team member runs a quarter-mile loop carrying the team's oily watermelon and water bucket.
Guides and participants from last year's trial run agree, though, that the funniest of the challenges is the Helmet Brigade, when boaters use their helmets to fill a bucket to the top with water from the river. That's easier said than done since the helmets are vented with large holes. There are time penalties and credits assessed based on successful completion of the tasks, so the first team to cross the finish line at the private riverside landing is not necessarily the winner.
"It may not be the most experienced rafters or most athletic teams that win," said Jered Javernick, a guide at Echo Canyon for the past eight years. "Creativity and the ability to solve problems as a team definitely come into play."
As the largest commercial river outfitter in Colorado, Echo Canyon is ideally suited and situated to offer a team-building rafting trip of this caliber. Bighorn Sheep Canyon offers just the right blend of mild-to-moderate excitement with miles of scenic beauty. As the name implies, Bighorn Sheep populate this area and are often spotted along the banks of the river, or along the rugged mountainsides.
Battle of Bighorn teams are staffed by professional river guides and provided with safety orientation, paddle instruction, personal flotation devices and helmets, so no experience is required. Three Echo Canyon judging teams are utilized so each challenge station is managed for fairness and safety. Groups can customize their events to include t-shirts, team photos, and prize packages with personalized Billy the Bighorn wooden paddles. Post-race parties at the onsite, full-service 8 Mile Bar & Grill offer the perfect opportunity to celebrate, commiserate and share highlights of the day.
Private Battle of the Bighorn events are available May through September, depending on water levels, for groups ranging from three to 10 teams, each consisting of five to seven participants. Advance reservations are required: 800-755-3246.
About Echo Canyon River Expeditions
45000 West U.S. Highway 50, Cañon City, CO 81212
800-755-3246 | http://www.raftecho.com | info(at)raftecho(dot)com
The largest commercial river outfitter in Colorado, Echo Canyon River Expeditions has been sharing rafting adventures since 1978. The family-operated business offers half-, full- and multi-day whitewater raft trips on the Arkansas River near Colorado Springs, with trips and packages ranging from family-friendly entertainment to extreme adventure. The 8 Mile Bar & Grill serves freshly prepared meals with indoor and patio seating, a full bar and beautiful views. Echo Canyon Campground offers pull-through RV sites with hookups, secluded tent sites and rustic cabins, with newly remodeled bathrooms and showers.