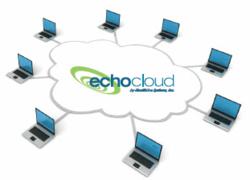 I recommended that we select EchoCloud to avoid placing additional demands on IT time and resources. Our team agreed. For us the Cloud option is a win for our IT team and a win for the Medical Staff Office.
San Diego, CA (PRWEB) July 16, 2012
HealthLine Systems EchoCloud hosted solution has now surpassed 100 million transactions. EchoCloud combines all of the functionality of HealthLine Systems industry-leading software with comprehensive hosting services. EchoCloud uses a thin client browser interface and Microsoft's SQL platform to provide 7/24 access from any internet-accessible computer.
EchoCloud now supports 140 clients and over 1,200 client users across the United States.
One of those clients, Nashville General Hospital at Meharry uses EchoCloud to support Echo credentialing applications. Medical Staff Coordinator Robbie Newlin had this to say about their decision to select Cloud implementation:
"With the move to Echo, the desire was to avoid additional pressure on IT. The Medical Staff Office didn't want to ask their IT team to acquire hardware, configure IIS and SQL, install Echo, configure fax and e-mail, and to support backup, maintenance, and upgrades."
Ms. Newlin continued: "I recommended that we select EchoCloud to avoid placing additional demands on IT time and resources. Our team agreed." Ms. Newlin summarized: "For us the Cloud option is a win for our IT team and a win for the Medical Staff Office."
HealthLine Systems research supports this recommendation, indicating that EchoCloud saves valuable client time. The average EchoCloud implementation is 23.6% faster and EchoCloud clients spend 50% less time with client support.
Nashville General Hospital at Meharry has developed a case study:
"From Chaos to Calm Efficiency: Five Insights from the Medical Staff Office." In that document Ms. Newlin comments: "We have accomplished more with Echo in the last twelve months than we achieved without it over the last ten years."
To discover Five Insights from Nashville General Hospital at Meharry, click here for their case study: http://www.healthlinesystems.com/pdf/NASHVILLE_casestudy12.pdf
Echo clients selecting Cloud implementation cite additional advantages:

Enjoy access from anywhere, at any time
Clients enjoy the ability to access the system from any location at any time – during travel, weekends, snow days. All you need is an Internet connection. Time and place are no longer barriers to your progress.
Eliminate competition for IT resources
Clients don't have to compete for internal IT resources. No more jockeying to schedule the high-demand time of IT professionals to acquire and install hardware; to configure IIS and SQL; to build function-specific environments and install Echo software; or to configure faxing and e-mail.
Liberate IT professionals
Client IT professionals can be freed up to focus on highest priority enterprise initiatives. At the same time, clients benefit from HealthLine's significant investment and infrastructure, intimate familiarity with Echo functions and dedicated vigilance for all Echo applications.
Most clients realize a sizable reduction in operating costs. Securing an environment comparable to that of EchoCloud would require a significant or cost prohibitive initial and ongoing investment. 
Echo clients selecting Cloud implementation cite additional advantages: continued
Benefit from a highly stable, geographically diverse system housed in a state-of-the-art data center. Enjoy best-in-class security, connectivity and reliability. EchoCloud consistently exceeds the Service Level Agreement standard of 99.5% up time.
Assure world-class data security and compliance
EchoCloud includes up-to-the-minute hardware, third party and Echo enhancements to secure your data and meet applicable HIPAA and HITECH compliance requirements.
Relax with stress-free system maintenance and upgrades
HLS maintains, backs up, and provides for SQL database maintenance, operating system upgrades, and regular Echo enhancements and upgrades. Many EchoCloud clients leave on Friday and return on Monday to find their Echo update complete!
Lock in proactive monitoring
EchoCloud employs multiple tools to proactively monitor all systems to detect developing issues and resolve them BEFORE they become significant problems. EchoCloud mitigates downside risk by regular reindexing and database optimization, server benchmarking and preemptive resource allocation, and proactive calls from Echo support with questions and organization-specific opportunities.
About HealthLine Systems
All HealthLine Systems software systems are offered as either cloud/hosted or as installed solutions including:
EchoCredentialing, web-based credentialing and provider management software;
EchoQuality, an integrated and comprehensive quality management software solution that supports patient safety and regulatory compliance initiatives and
EchoAccess, healthcare's first fully web-enabled contact center solution with a web-browser user interface.
HealthLine Systems client base represents over a thousand distinguished healthcare organizations in 50 states, Canada and Mexico. Incorporated in 1985, HealthLine is privately held and based in San Diego, California. HealthLine is committed to provide peerless information management solutions to maximize the quality and delivery of healthcare services through technological innovation. For more information, visit HealthLine Systems website, http://www.healthlinesystems.com.