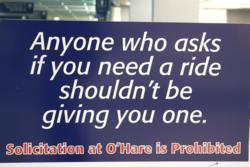 Chicago, Illinois (PRWEB) December 12, 2011
Echo Limousine has released a unique, detailed video showing travelers who need limo service in Chicago exactly what to do when traveling into or out of O'Hare Airport. A spokesperson at the company says they decided to create the video because their customers were reporting a lot of frustration with some of the latest procedures brought on by the changing flight laws.
These laws have made it necessary not only for travelers to know the rules of the airport, but also for drivers picking them up at the airport to know them. Not being aware of the rules can result in frustration, both for the driver and for the traveler who is having trouble meeting the driver.
"A quick search of the O'Hare Airport website does not reveal information about pickup procedures, and this has resulted in some confusion and frustration for travelers who have never flown through there and don't know which order things should be done in," company president Mircea Stanescu says. "Our video illustrates the entire process, making it extremely easy for travelers who need a Chicago limo service to know what to do."
The video is a step-by-step list of instructions illustrating where travelers need to go when they first get off the plane and what they need to do to meet their driver. Travelers are advised to keep in mind that all Chicago limousine companies and other drivers picking them up are required to stay away from the pickup area until the person being picked up is at the pickup point. Flight experts say booking Chicago limo services helps alleviate some of the frustrations of not knowing how the pickup rules work because limousine chauffeurs deal with the rules every day.
About Echo Limousine:
Echo Limousine provides Chicago limousine service for thousands of travelers in the city's metropolitan area each year. The company offers competitive rates combined with dependable service so anyone can afford to travel in complete luxury.
Contact:
Mircea Stanescu, General Manager
773-774-1074
http://www.echolimousine.com
###