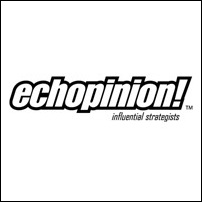 Best Use of WOMMA Terminology Framework
Syracuse, NY (PRWEB) December 11, 2006
Echopinion, a word of mouth marketing and research firm, has won the national Word of Mouth Marketing Association's award, "Best Use of WOMMA Terminology Framework," for a paper the company submitted to be included in the association's soon-to-be-released book, Measuring Word of Mouth Vol. 2.
The paper, "Combining Several Metrics from the WOMMA Terminology Framework to Manage Consumer Expectations: A Report on How One ABC American Inventor Incorporates WOM for a Holistic Approach," reviews the word of mouth (WOM) campaign conducted by Echopinion for the Dustbunny™ Cleaner.
William Mosher, Founder/Director of Echopinion, will present the research at WOMMA's Word of Mouth Marketing Summit and Research Symposium in Washington D.C., December 11, 2006.
"Receiving this award is a great honor," reflects Mosher. "It is not only an award for Echopinion, but an award for the word of mouth industry as a whole. It helps validate the unique role WOM plays by delivering distinct, measurable results that have been unattainable from more traditional research and marketing efforts."
Bradford Morse, co-inventor and partner of Wildcard Enterprises, LLC, found Echopinion through contacts at Syracuse University. "Echopinion provided us the opportunity to introduce the Dustbunny to households across the country. Those households reported on their experiences with the Dustbunny including conversations they had with others about the product. Unlike focus groups, the experiences the participants reported on happened in their own 'real world' environments. And, their reports provided us with very valuable, detailed feedback -- feedback we were able to monitor as it was happening 24/7," said Morse.
"We're very happy Echopinion has won an award for this paper. The campaign we ran with them was priceless," said Morse. "Not only did it help us determine whether or not to invest more money into our product, Echopinion was instrumental at tailoring our product launch message and approach so we were ready for QVC when they came knocking."
Armed with fresh consumer research and a new approach, Wildcard was able to successfully answer the tough questions QVC would pose at the 2006 International Housewares Show in Chicago. Within a few short months of this meeting, on October 23, the Dustbunny made its U.S. debut on QVC where millions of viewers were introduced to the round, electrostatic cleaner.
Echopinion, a national word of mouth marketing and research firm located in Syracuse NY, incorporates word of mouth marketing to help companies promote their products. With membership in 50 states, members of Echopinion try products free of charge and at no risk.
The Falcone Center for Entrepreneurship is affiliated with the Department of Entrepreneurship and Emerging Enterprises at Syracuse University. The center is under the interim direction of Craig Watters. Our mission is the facilitation of entrepreneurial activity on the campus, in the local and regional community, and beyond. The center focuses on outreach efforts, offering a portfolio of innovative programs and initiatives for various constituencies. These programs are organized into three areas: student and campus-focused initiatives, community outreach, and venture creation from emerging technologies.
QVC, Inc., a $7 billion company, is an e-commerce leader, marketing a wide variety of brand name products in such categories as home furnishings, licensed products, fashion, beauty, electronics and fine jewelry. QVC reaches over 160 million homes worldwide. Other divisions/subsidiaries include QVC.com, QVC @, QVC Local and QVC ProductWorks. The QVC Studio Tour is located at the company's world headquarters in West Chester, Pa. QVC is a subsidiary of Liberty Media Corporation.
Wildcard Enterprises, LLC is a joint venture co-owned by Bradford Morse of Syracuse, NY and Raquel Barela of Austin, TX specializing in new product development.
Contacts:
Katie Reilly, Research Analyst
William Mosher, Founder/Director
Echopinion!
315-463-6601
Echopinion - Word of Mouth Marketing and Research
# # #