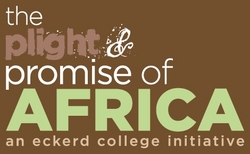 This is a unique opportunity for a liberal arts college to demonstrate its capacity for creative collaboration. With Africa as the focus, this educational forum intentionally promotes open dialogue at Eckerd College and across Tampa Bay.
St. Petersburg, FL (PRWEB) December 1, 2009
In January 2010, Eckerd College will launch "The Plight and Promise of Africa: An Eckerd College Initiative," a yearlong effort that will raise Africa's profile through academic study, activism and community consciousness.
"'The Eckerd-Africa Initiative is a unique opportunity for a liberal arts college to demonstrate its capacity for creative collaboration," said Dr. Donald R. Eastman III, President of Eckerd College. "Eckerd faculty, students and staff have teamed up to develop a program that surpasses the routine lecture series. With Africa as our focus, we have created an educational forum that intentionally promotes open dialogue at Eckerd College and across the Tampa Bay community."
Through panel discussions, films, lectures, readings, and the visual and performing arts, these speakers, ensembles and exhibits are scheduled to be part of the Eckerd-Africa Initiative in 2010:

"Congo/Women Portraits of War: The Democratic Republic of Congo" photo exhibit (Jan. 11 to Feb. 20)
Anita Shreve, author of "A Change in Altitude" and "The Pilot's Wife" (Jan. 16)
Dundu Dole Urban African Ballet performance ensemble (Feb. 10)
John Prendergast, co-founder of the anti-genocide Enough Project (Mar. 1 to 13)
Ladysmith Black Mambazo, Grammy Award-winning a cappella group from South Africa (Mar. 2)
Betty Bigombe, Ugandan peace negotiator (Mar. 18)
Jerald Walker, author of "Street Shadows: A Memoir of Race, Rebellion and Redemption" (Mar. 22)
"Darfur/Darfur" multimedia photo exhibit (Apr. 2 to 30)*
Jerry Fowler, president of the Save Darfur Coalition (Apr. 3)*
Nicholas Kristof, Pulitzer Prize-winning columnist for The New York Times (Apr. 6)*
Florida Memorial University Ambassador Chorale (Apr. 8)
Immaculee Ilibagiza, author of "Left to Tell" and survivor of the 1994 Rwandan genocide (Apr. 14)*
Valentino Achak Deng, a former Lost Boy from Sudan (Sept. 9)
Dave Eggers, author of "Zeitoun" and "What is the What: An Autobiography of Valentino Achak Deng" (Sept. 9)
Presentations will also be given by Eckerd College faculty, students and alumni; guest faculty and researchers from the UK's Peninsula Medical School in Plymouth, Rutgers University, University of Florida, University of Rhode Island Coastal Resources Center, and University of South Florida. Organizers will continue to add events as the Initiative develops.
Most events are free and open to the public, or include a nominal cost for admission. Speakers and topics are subject to change. Items noted with an asterisk (*) indicate events that have been made possible by the Florida Holocaust Museum as part of its commemoration of Genocide and Human Rights Awareness Month in April 2010.
Click here to read the complete news story
Click here to browse the Eckerd-Africa Initiative Calendar of Events
Click here to explore "The Plight and Promise of Africa" Web site
Student Involvement is Critical:
Eckerd College Organization of Students (ECOS) student government and Eckerd's African Interest Group have been at the helm of student-coordinated activities for the Initiative. "We have already hosted awareness events, fundraisers and film screenings to boost momentum for 2010," said Eckerd junior and ECOS President Lauren DeLalla. "Our focus on Africa highlights the fact that Eckerd students have been interested in social justice issues, here and abroad, since the College was founded fifty years ago."
The Study of Africa is Cross-Disciplinary
For William F. Felice, Professor of Political Science and Co-chair of the Eckerd-Africa Initiative, raising Africa's profile occurs across academic disciplines. "In addition to celebrating and honoring the diversity of African history and cultural heritage, we will explore issues related to war crimes and human rights, environment and human health, foreign policy and humanitarian aid, rebuilding and economic development, women and healthcare, and alternative energy sources for sustainable communities," said Professor Felice. "Eckerd's distinctive areas - the sciences, the arts, service-learning, and social justice - remain prevalent in our planning efforts."
John Prendergast, human rights activist and co-author of "Not On Our Watch," will anchor the Spring 2010 semester as a Visiting Scholar-in-Residence at Eckerd for two weeks in March. He will focus on the genocide in Darfur and southern Sudan; conflict minerals in eastern Congo; and child soldiers in northern Uganda. Author Dave Eggers and Valentino Achak Deng, a former Lost Boy from Sudan and subject of Eggers' book, "What Is the What," will anchor the Fall 2010 semester. "What Is the What" will be a required summer 2010 reading for the incoming freshman class.
With more than 60% of Eckerd's students traveling abroad during their Eckerd career, three student groups will travel to Africa during the January 2010 Winter Term - one group will study consumerism in Morocco, while the other two will do service-learning in Malawi, Ethiopia and Rwanda.
Thinking Globally and Acting Locally: Community Partnerships:
"While Eckerd will serve as the primary site for the majority of events, the generous support of our Community Partners have helped to transform the Initiative into a communitywide project," said Alizza Punzalan-Hall, Eckerd's Director of Community and Media Relations and Co-chair of the Eckerd-Africa Initiative. "Our strategy is to bring attention to global issues while highlighting the vital work of our local educational institutions, arts organizations and social services agencies."
Two photo installations curated by Chicago-based Art Works Projects will be on display at The Poynter Institute ("Congo/Women Portraits of War") and the Florida Holocaust Museum ("Darfur/Darfur"). The Studio@620 will display "Images from Ethiopia, Rwanda, Ghana, Malawi, and Uganda" by emerging photographer Bradley Ennis and freelance photojournalist Kristin Harrison from March 12 to 28. Ennis is a visual arts senior at Eckerd College; Harrison is a 2001 Eckerd graduate and former editor-in-chief for Women's Running Magazine.
Additional Community Partners include: USF St. Petersburg, Creative Clay, Community Tampa Bay, Community Action Stops Abuse (CASA), and the YWCA of Tampa Bay. Potential Community Partners should contact Ms. Punzalan-Hall (727-864-7978) for more information. Media Partners include WUSF Public Broadcasting and the St. Petersburg Times Fund.
About Eckerd College
Located in St. Petersburg, Florida, Eckerd College was founded in 1958 as a private, coeducational college of liberal arts and sciences related by covenant to the Presbyterian Church (USA). Eckerd's 1,840 residential students from 45 states and 28 countries choose among thirty-eight majors leading to a Bachelor of Arts or Bachelor of Science degree. A Phi Beta Kappa institution, Eckerd is one of only 40 schools listed in Loren Pope's "Colleges That Change Lives."
###