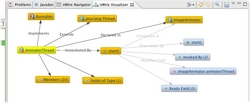 We are pleased to see young, innovative companies like nWire joining the foundation.
Tel Aviv, Israel (PRWEB) July 27, 2010
nWire Software, Ltd., an independent software vendor offering innovative Eclipse-based tools, today announced it has joined the Eclipse Foundation as a solutions member. The Eclipse Foundation is an open source, not-for-profit member-supported corporation that helps cultivate both an Open Source community and an ecosystem of complementary products and services.
nWire Software focuses on building tools for the Eclipse IDE (Integrated Development Environment), including nWire for Java and nWire for PHP: a real time code analysis tools, offering code exploration, search and visualization. nWire accelerates development by helping developers navigate through their code and better understand the architecture of their application. It can dramatically reduce the learning curve for developers entering a large code base. nWire is based on the standard Eclipse IDE toolset and smoothly integrates with the platform.
"We made it our target to broaden the participation in the Eclipse community and we are pleased to see young, innovative companies like nWire joining the foundation," said Mike Milinkovich, executive director of the Eclipse Foundation. "nWire is a great example of how to leverage and extend the platform. We welcome nWire Software as a member of the Eclipse foundation."
"We are very excited to join the Eclipse foundation after many years of active participation," said Zviki Cohen, founder and chief software architect for nWire Software. "We built our company around Eclipse because we believe it is the right platform: open, powerful with a vibrant community around it. Our unique tools contribute to Eclipse position as a leading IDE. We are already working in collaboration with several foundation members like Zend Technologies and Genuitec and look forward to tightening our relations with the Eclipse foundation and its' members."
As part of the support and commitment to the Eclipse community, nWire Software now offers free downloads of the standard Eclipse packages. The downloads are hosted on a highly optimized, globally available, content delivery network. Optionally, users may choose to download the Eclipse IDE with nWire tools pre-installed. The Eclipse downloads are available today at: http://www.nwiresoftware.com/download/eclipse.
About Eclipse
Eclipse is an open source community, whose projects are focused on building an open development platform comprised of extensible frameworks, tools and runtimes for building, deploying and managing software across the lifecycle. A large, vibrant ecosystem of major technology vendors, innovative start-ups, universities and research institutions and individuals extend, complement and support the Eclipse Platform.
The Eclipse Foundation is a not-for-profit, member supported corporation that hosts the Eclipse projects. Full details of Eclipse and the Eclipse Foundation are available at http://www.eclipse.org/
About nWire Software
nWire Software, Ltd, is an independent software vendor offering innovative and unique software development tools based on the Eclipse platform. The vision of nWire Software is to assist developers in maximizing their potential by offering simple and pragmatic tools for boosting productivity. nWire Software Ltd was established in 2007 and is headquartered in Tel Aviv, Israel.
Full details of nWire are available at http://www.nwiresoftware.com/
###