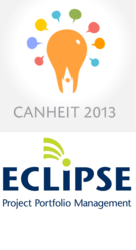 Toronto, Ontario (PRWEB) June 05, 2013
CANHEIT, Canada's premier Higher Education IT Conference will be held at the University of Ottawa this June from the 9th–12th.
This year's conference will focus on 'Exceptional ideas for a changing world.' In line with this, keynote speakers and industry providers will share the exceptional ways they're looking at IT in Higher Education.
As a PPM provider of choice for a number of educational organizations, Eclipse Project Portfolio Management (PPM) is proud to be part of such providers at this year's conference. Eclipse PPM, a product of Solution Q provides customers with a solution to simplify the successful implementation of PPM Software by focusing on process and behavior change to achieve results.
Eclipse PPM has worked with many education organization clients either in Healthcare within Higher Education or from Higher Education Institutions themselves to deliver a PPM Roadmap to overcome common issues such as project intake, selection and prioritization, project communication and resource management – including the ability to plan and allocate resources.
Eclipse Project Portfolio Management will be offering one-on-one meetings with its experienced industry personnel, Teresa Funnell and Darryn MacDonald at this year's CANHEIT conference to discuss your PPM Roadmap to success. Meetings can be booked ahead of time by contacting the team at Eclipse PPM.
If you are not able to attend this year's event and would like to discuss your PPM concerns with the team at Eclipse, you can contact them directly to schedule a meeting.
If you are attending, be sure to book your meeting with the Eclipse PPM team today.