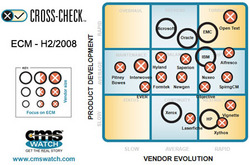 ECM provides many opportunities for cutting real costs, while marketplace evolution continues to make such technology more and more affordable
Silver Spring, MD, USA (PRWEB) October 7, 2008 -
Enterprise Content Management (ECM) technology buyers are under pressure to cut costs and justify expenses at a time when small and mid-market vendors are now providing less expensive alternatives to larger ECM vendors.
Enterprises typically use ECM technology to automate manual processes and reduce information redundancy, thereby improving efficiency while reducing staff and infrastructure costs.
This analysis stems from research CMS Watch conducted for its recently released "ECM Suites Report 2009," which evaluates forty ECM solutions head-to-head.
"ECM technology buyers are in a unique position," notes Alan Pelz-Sharpe, lead analyst for the report. "ECM provides many opportunities for cutting real costs, while marketplace evolution continues to make such technology more and more affordable," adds Pelz-Sharpe.
As part of The ECM Suites Report 2009, CMS Watch released the newly updated "ECM Suites Cross-Check(tm)" diagram - offering a buyer-oriented risk assessment of the ECM marketplace. The diagram specifically addresses vendors' evolution as it relates to product development, providing an overall marketplace assessment.
Low res: http://www.cmswatch.com/images/CMS-Watch-ECM-Cross-Check-H2-2008.jpg
High res: http://www.cmswatch.com/images/CMS-Watch-ECM-Cross-Check-H2-2008.bmp
Specifically, the chart suggests that:

Market leaders continue to represent the highest risk to buyers in terms of product stability and corporate change (IBM, EMC, Microsoft), due to continued rapid development of new product features and the difficulty of digesting acquired assets
Mid-market and small specialist vendors today typically represent a lower risk in terms of both product and corporate stability (e.g., Hyland, Saperion, EVER, Laserfiche, Xythos, ISIS, and KnowledgeTree, among others)
The ECM Suites Report 2009 is available for purchase online from CMS Watch.
About CMS Watch
CMS Watch(tm) (http://www.cmswatch.com) evaluates content-oriented technologies, offering head-to-head comparative reviews of leading solutions. Through highly detailed technical evaluations, CMS Watch helps sort out the complex landscape of potential solutions so that buyers can minimize the time and effort to identify technologies suited to their particular requirements. To retain its independence as a totally impartial analyst firm, CMS Watch works solely for solutions buyers and never for vendors.
###