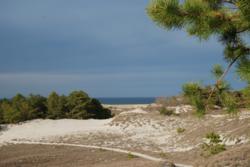 Sherborn, MA (PRWEB) April 24, 2012
A special Memorial Day weekend Salt Marsh and Songbirds Eco-Bike Adventure on the MA North Shore offered by Great Freedom Adventures, explores the wildlife and ecology of tidal salt marsh, barrier islands, dunes and coastal forests by bike and foot. The tour is timed to coincide with the return of songbirds to one of the finest birdwatching destinations in the eastern United States and occurs during peak migratory bird diversity. The tour also coincides with the spring bloom of certain varieties of azaleas and rhododendrons, which appear in massed, native stands.
The eco-bike tour explores the Great Salt Marsh, a destination world famous for nature study, encompassing thousands of acres of salt marsh, one of the most productive ecosystems on the planet. More than 350 species of birds have been recorded and guests will hear the melodies of numerous songbirds and may view wading birds such as great blue and green herons, snowy egrets and glossy ibises. Beaver, muskrat, turtles, fox, turkeys and deer are among the many other species of wildlife that may be seen throughout the tour.
While natural beauty and wildlife are the main focus of the tour, guests will also discover man-made beauty while touring the impressive mansion and grounds of Crane Estate at Castle Hill in Ipswich and the remains of a 19th century riverfront estate with its rolling lawns, gardens, riverfront trails and pine woods. The town of Newburyport itself, the tour's base of exploration, offers beautifully preserved sea captain's mansions, a wide range of architectural styles in the handsome homes, a vibrant arts scene, numerous eateries, and bustling shopping and waterfront areas.
The May 26-28, 2012 tour includes lodging at the elegant Garrison Inn in the heart of Newburyport, most meals, guides, van support, bicycle rental, admission to wildlife refuges and the Crane Estate and transportation from the train station to the inn. The three-day, two-night tour costs $895 per person based on double occupancy.
The tour is suitable for all abilities with flexible daily cycling mileage ranging from 18-50 miles and nature walks on boardwalks and sand paths of varying distances.
Great Freedom Adventures offers additional sensory-, body- and eco-friendly explorations of northeast USA on bike tours (http://www.greatfreedomadventures.com) and adventure vacations traversing mountains, river valleys and seacoast. Other 2012 tours include the four-day Inlets and Isles Rhode Island Vacation Bike Tour, the six or three day Best of Vermont Bike Tour, the six day Islands and Seacoast Cycle Tour in Martha's Vineyard and Rhode Island, the six-day Hudson River Valley National Heritage Area tour and the three-day Block Island multisport tour. For more information on the Memorial Day Eco-Bike Adventure or on any of Great Freedom Adventures other tours, please visit the website.
About Great Freedom Adventures
Great Freedom Adventures offers bike tours in New England and New York in regions possessing a unique diversity of natural and cultural interests. The tours are distinguished by including a wealth of additional activities such as kayaking, hikes, nature walks, history tours, sunset sails, demonstrations and others, which fully immerse the traveler in each destination to provide an insider's perspective. The tours are three to six days long and are guided and supported. Please visit the website for additional information and for specific details on each tour. For information please see http://www.greatfreedomadventures.com.