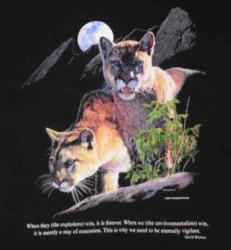 Volunteering at the Waystation brought me so much joy and personal fulfillment.
Happy Valley, OR (PRWEB) September 05, 2012
Organic Clothing Boutique FaeriesDance.com has donated 1% of its gross sales to charity since it opened in 2005. This September, they've decided to increase their support by not only continuing their 1% donation, but also giving an additional 5% to the Wildlife Waystation. Every customer in September who uses the coupon code WILDLIFE at FaeriesDance.com will receive a 5% discount on their order and an additional 5% will be donated to the Wildlife Waystation.
The Wildlife Waystation resides in the Angeles National Forest, just outside of Los Angeles. Its mission is to rescue, rehabilitate, relocate, and provide sanctuary for exotic animals from around the world as well as native wildlife. FaeriesDance.com founder, Adrienne Catone, volunteered at the Wildlife Waystation before becoming an entrepreneur. "Volunteering at the Waystation brought me so much joy and personal fulfillment. It was fantastic to be around all the sanctuary animals, knowing I was making a difference in their lives. Best of all, I was able to pet a 6-month old tiger once."
Over the last few years, the economic uncertainty in the USA has caused a substantial reduction in charitable giving. Smaller charities, like the Wildlife Waystation, that rely solely on donations from individuals, without any government support, have found themselves financially troubled. FaeriesDance.com has decided to step up and help out. So if your closet needs a bit of eco-sprucing up, it's time for a new winter coat, or you're just looking for that perfectly soft and comfortable organic cotton bra, be sure to visit them during September and benefit both yourself and animals in need.
About FaeriesDance.com
FaeriesDance.com is an eco-friendly e-tailer offering sustainable apparel and specializing in hard-to-find items such as organic cotton bras and lingerie. The company is named after the mythological woodland creatures that live in the heart of the forest, honor all things in nature, and who celebrate life with joyous abandon. In addition to providing beautiful organic clothing and eco-friendly accessories, FaeriesDance.com is committed to providing a complete environmentally-conscious shopping experience for its customers. Their clothing is made from sustainable fabrics and low-impact dyes. The company sources products from both U.S. and overseas manufacturers who ensure that all workers are treated fairly and are safe from sweatshop conditions. FaeriesDance.com has even gone to great lengths to provide consumers with environmentally sound gift wrapping options. They strive to help everyone "Go Green Right Down to Their Skivvies."