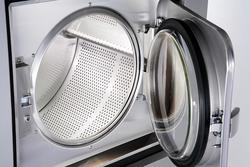 Advance showed me their new G400 range of Grandimpianti washers and dryers coupled with the Opura ozone system
(PRWeb UK) March 21, 2010
Clean laundry is an essential requirement of any top class care home. Especially in Sunbury Nursing Home one of the oldest and most prestigious care homes situated on the banks of the river Thames in Middlesex. Clean laundry not only creates a good impression but it is essential for hygiene and helps combat transference of infection.
But modern care homes have strict budgets to adhere to and are always looking at ways to keep running costs down. Advance Laundry Equipment says its latest high tech, environmentally friendly laundry system can cut costs through energy and resource savings while producing cleaner results.
When Chris White, Managing Director at Sunbury Nursing Home, wanted to find out what savings he could make if he installed a modern laundry system to give the best service for his 87 residents, he turned to Advance Laundry Equipment for advice.
"Advance showed me their new G400 range of Grandimpianti washers and dryers coupled with the Opura ozone system," White says. "I could see that it offered us the opportunity to completely re-vamp the laundry, bringing it into the 21st century.
The Opura laundry management system combines ozone, Grandimpianti's unique washer extractor technology and the 'Brilliant' high quality commercial laundry detergent range from R P Adam. Together they ensure both laundry cleanliness and energy efficient operation.
Independent tests by Campden BRI, a UK research and development organisation for the food and drinks industry, show that as well as delivering savings in energy, water and chemical usage, Opura maintains the highest levels of infection control, combating MRSA, E. coli and C. difficile on every wash cycle.
"The facts and figures provided by Advance were supported with live on-site data based on extensive field trials they have carried out with major UK care suppliers - people and operators I know and can identify with," says White.
Advance completely reviewed the operation at Sunbury and pointed out where savings could be made. For example, the existing dryers at Sunbury were using 35kW of gas each load, whereas the new Grandimpianti TDG180 dryers use 7.97kW to dry an 18kg load in only 29 minutes.
"Because all G400 dryers have direct reverse action there are no moving belts, which significantly cuts down on energy use," says Jeremy Hartigan, Advance Group Business Development Director. "What's more the Grandimianti's Dynamic Weighing System (DWS) actually weighs every load, so the exact amount of detergent and water is used each time. Laundry is washed and rinsed better this way, while substantial savings are made on energy, chemicals and water."
For Sunbury it's an excellent solution. The Whites can maintain their high standards, improve their laundry operation, increase their environmental credentials and cut costs dramatically.
"The Advance system has really turned the laundry green!" says Hartigan.
Advance Laundry Equipment is part of the Advance Group. For more information on the Grandimpianti range and the Opura system contact Advance Laundry Equipment on 0800 597 7427 or visit http://www.advancegroupuk.co.uk.
Sunbury Case Study – Mar-10
Press Enquiries:
Toni Turner or Alison Haynes at The Publicity Works
Phone: 01263 761000; email: advance (at) publicityworks (dot) biz
Luke Boxall at Advance Group: 0800 597 7427
###