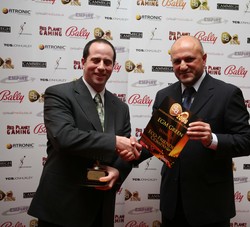 UK (PRWEB) February 3, 2009
EGM Green announced that it has won the prestigious 2009 International Gaming Award for most Eco-Friendly company in the industry. Eric Hansel, President of EGM Green, accepted the award on behalf of the company at a gala ceremony held January 26 at the Millennium Gloucester Hotel in London.
The International Gaming Awards were held in conjunction with the annual International Gaming Expo (formerly known as ICE) that took place in London last week.
EGM Green was recognized by a 23-judge panel representing leading gaming-industry professionals, gaming journalists and gaming-industry analysts from around the world for providing the industry's most effective and large scale sustainability initiatives.
According to Empire Events, producers of the International Gaming Awards, the Eco-Friendly category "This award recognizes the companies, specifically operator or manufacturer that has taken into account the effect on the environment while running their business. The winner will have taken a strategic, comprehensive and innovative approach to reducing waste and usage of natural resources. All in a world where a comprehensive and innovative approach to tackling climate change is needed.
"This prestigious international award was made possible by EGM Green's, "Holistic approach to each building or project," Hansel said. "I am honored to accept this award on behalf of our dedicated EGM Green team members around the world who unfailingly put our valued customers first in all that they do, all while keeping our eyes on sustainability. Other finalists who competed in the International Gaming Awards Eco-Friendly category were The Palazzo and Cammegh.
About EGM Green
Founded by Eric Hansel in 2007, EGM Green designs and manufactures
the world's only eco-friendly casino tables and furniture and provides LEED consulting services and a full suite of green consulting, including Wind, Solar, Co-generation, and Geothermal audits and implementation for casinos, hotels, spas and homes. Eric has used his knowledge of the casino industry, as well as his long-term sales and marketing background, to bring large-scale sustainability to the casino industry. Eric has formed a multi-disciplinary team whose goal is to increase the energy efficiency of slot machines by 50% within five years. Eric is also a board member for his local branch of the United States Green Building Council (USGBC), a business counselor for Service Core of Retired Executives (SCORE) and serves on the ethics committee for the WPA (World Poker Association). In addition, Eric writes for many trade publications and produces a monthly article on Green Gaming for Casino Journal. Eric also speaks on sustainability, and offers an outsource CSO (Chief Sustainability Officer) option to its customers.
###