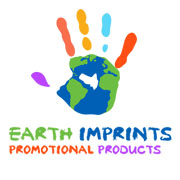 We listen to what you want to accomplish, provide advice and take you from an idea all the way to finial result. We can assist with product selection, graphics design, make sure you are getting what you want and what you need when you need it
Kingston, Canada (PRWEB) May 16, 2015
The founders of EarthImprints.com, a company that specializes in attractive, durable and eco-friendly promotional products, are pleased to announce that they have just finished revising their website. The updated site is now better than ever at handling the higher levels of orders from eco-friendly clients.
Since the day EarthImprints.com was founded in 2006, the company has strived to offer customers a wide variety of top quality "green" promotional products. As a spokesperson for EarthImprints.com noted, they deal with manufacturers that use Earth-friendly practices and recycled materials.
As a bonus, choosing eco-friendly promotional products will ultimately help business owners to get their messages out over an extended period of time. Unlike other items that are used once or twice and then thrown away, the reusable promo products are designed to last.
Because the founders of EarthImprints.com understand that choosing the right promotional product might seem overwhelming at times, they are happy to help their customers with the ordering process.
"We have a dedicated team that is here to help and we are ready to answer any of your questions and concerns," the company spokesperson said, adding that they not only strive to provide a good value to their customers in terms of product price and quality, but also to serve everybody with professionalism, courtesy and understanding.
"We listen to what you want to accomplish, provide advice and take you from an idea all the way to finial result. We can assist with product selection, graphics design, make sure you are getting what you want and what you need when you need it."
One of the eco-friendly promotional products that has been especially popular with customers lately is the Poly Pro Printed Tote. Starting at $1.28 per bag, the printed tote bag comes in a variety of colors and can be imprinted with a logo or design. As more cities across the country ban the use of plastic bags and charge for paper bags, shoppers are grateful to have a reusable tote bag for their groceries or other items.
Anybody who would like to learn more about EarthImprints.com is welcome to visit the newly-updated website; there, they can read more about the company and browse through the vast selection of eco-friendly products.
About EarthImprints.com:
Founded in 2006, EarthImprints.com specializes in quality promotional products. Focused on re-usable promotional items, they see the value in repeated use of the products they sell. Their customers' brands, logos, messages and causes get higher exposure when the items that display them can be used in daily life and not thrown away in the garbage. For more information, please visit https://earthimprints.com/