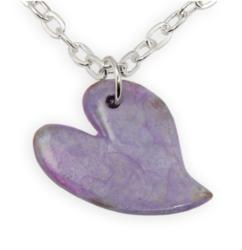 Most women love gifts that have a story or deeper meaning behind them.
Happy Valley, OR (PRWEB) January 31, 2013
Organic Clothing Boutique FaeriesDance.com FaeriesDance.com has rounded up a single-page collection of green gift ideas to make Valentine's shopping quick and easy. "Most women love gifts that have a story or deeper meaning behind them." says FaeriesDance.com's owner, Adrienne Catone.
That's why she chose to feature the Love Bird Lavender Necklace on the gift guide. It features a design that weds the heart, symbol of love and compassion, with the dove, universal sign of innocence and peace. The charm is made from Peace Bronze©, a completely recycled metal alloy that is created from cabling that connected now-disarmed nuclear missile silos. Adrienne expects the story behind the necklace will garner as much attention as the gift itself.
Another great story-telling gift is the Moulin Rouche Panties made by the UK company Pants to Poverty. Pant to Poverty's mission is to use the sale of underwear (commonly referred to as "pants" in Britain) to stamp out poverty. They employ subsistence farmers and factory workers in India providing long-term, stable income, fair wages and good working conditions. The Panties themselves come in a gift-friendly folder with information on the project and how it's helping end poverty in that region.
Valentine's Day isn't just for lovers either. Folks who want to show their love for parents, children or close friends will find a few gems on the gift guide as well. The brightly colored, recycled cotton Mismatched Socks in the predominately red and pink Celeste pattern is a fun find for just about anyone.
Fabulous gifts don't need to cost a fortune. Something meaningful, sustainable and thoughtfully purchased is sure to be a big hit regardless of price.
About FaeriesDance.com
FaeriesDance.com is an eco-friendly e-tailer offering sustainable apparel and specializing in hard-to-find items such as organic cotton bras and lingerie. The company is named after the mythological woodland creatures that live in the heart of the forest, honor all things in nature, and who celebrate life with joyous abandon. In addition to providing beautiful organic clothing and eco-friendly accessories, FaeriesDance.com is committed to providing a complete environmentally-conscious shopping experience for its customers. Their clothing is made from sustainable fabrics and low-impact dyes. The company sources products from both U.S. and overseas manufacturers who ensure that all workers are treated fairly and are safe from sweatshop conditions. FaeriesDance.com has even gone to great lengths to provide consumers with environmentally sound gift wrapping options. They strive to help everyone "Go Green Right Down to Their Skivvies."