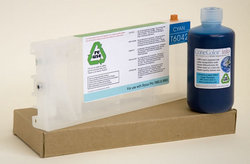 We started the digital printmaking revolution and have been making inks since 1992.
East Topsham, VT. (PRWEB) December 4, 2008
ConeColor today announced new ink solutions for users of Epson large-format printers enabling them to both cut ink costs and reduce impact on the environment.
The Ink
The new ConeColor ink line for Epson 2400, 3800, 4800, 7800 and 9800 printers now includes a new Vivid option for Epson 2880, 4880, 7880, and 9880 printers at less than 1/3 the cost of OEM solutions.
"What ConeColor offers, that is distinctly different, is ink with 'built-in color management,' said Cone. "ConeColor inks are formulated to maximize existing OEM profiles. Plus, our new K3 Vivid color-compatible system offers free ICC profiles for more than 40 papers including Epson's own, plus papers from Hahnemuhle, Innova, Moab and others. This means turnkey conversion for printers now using OEM inks, without complex profiling."
"For too long, consumers have been led to believe that if they use another brand of ink they will get poor color, longevity and support," said Cone. "We've eliminated that myth." ConeColor inks use a 100% pigment formula for longevity. InkjetMall (ConeColors' reseller) even carries insurance to protect its users' printers. "We are not a fly-by-night company," offered Cone. "We started the digital printmaking revolution and have been making inks since 1992."
Every Color We Make is Green
From the first day, ConeColor was conceived as a Green product line. Today's launch builds on the ConeColor strategy of giving inkjet consumers a more cost effective and environmentally sustainable choice.
The OEM model of one-time use cartridges is tremendously wasteful - more than 450 million ink carts and packages discarded annually in the USA - and that's hardly sustainable. They expect the user to buy small amounts of ink, at high prices, in virgin plastic cartridges, then use the ink and throw the cartridges away (often with ink still remaining). Their idea of recycling is to incinerate cartridges!
Today, our dependence upon foreign oil is one of the greatest contributors to the failing economy and It is estimated that more than 2.5 ounces of petroleum products are required to manufacturer one average inkjet cart. The best solution is not to discard carts in the first place. New ConeColor Reusable Carts are designed for no-mess, easy refilling. Their clear design means that consumers can see the remaining ink with just a glance. And empty ConeColor bottles can be rinsed and put into the recycling bin at any refuse site - or repurposed.
"Artists and photographers have long felt restrained from printing due to the high cost of ink," Cone said. "Our new system enables them to print as frequently, creatively and expressively as they want. Now, consumers who are trying to decide between saving money or saving the earth can succeed on all counts."
The cost of an entire set of ConeColor 236ml bottles, including Reusable Cartridges for Epson 4800, 4880, 7800, 7880, 9800 and 9880 printers is only $648.84 (or approximately $72 per ink color). The street price of ONE OEM cartridge is about $85 per 220ml cart. When the customer refills a ConeColor Reusable Cart the cost is as low as $25 for 220ml of ink, which represents a savings of 71% over the street price of a single OEM 220ml cart. ConeColor even offers a solution for the Epson 3800, 2800 and 2400 printers using a bottle fed damper system which eliminated the need for cartridges in these printers.
What Customers Say
"I've been a professional photographer for 25 years. I recently made test prints with Epson inks. Then I printed the same set of images using the same profiles with ConeColor inks. The difference was indistinguishable. No clogging, no profiling and no carts to dispose of. Just doing my bit for the environment."
Joel Conison
JoelConison.com
"ConeColor K3 inks work perfectly with Epson profiles just as if I was using Epson inks. The inks really do match Epson's color... just as predictable, just as consistent, same image quality. Great product!"
Stephen Harris
Advanced Amateur Photographer
New Haven, CT
Availability

A complete set comprising nine 236ml bottles of ConeColor ink and nine Reusable Carts retails for $648.84.
One single 236ml bottle of ink and a single Reusable Cart retails for $74.48.
Additional bottles of any color ConeColor ink are priced at $40.75 per 236ml, $67.92 per 500ml, and $113.20 for 1000ml.
A complete set of 4 ounce bottles of ConeColor ink and a bottles fed damper system is available for the Epson 3800 for only $522.84, for the Epson 2880 for only 390.84, and for the Epson 2400 for only $370.84.
ConeColor inks and carts are available immediately, exclusively from InkjetMall.com, and online information is available at ConeColor.com
About Jon Cone
ConeColor is the brainchild product of Jon Cone.
Jon Cone has been active in the digital printmaking industry for as long as the digital printmaking industry has been around. Cone founded the first digital printmaking studio in Port Chester, NY in 1984. He has owned and operated a fine art gallery and publishing business in New York City. In 1990, he moved operations to rural Vermont and began pioneering inkjet for both fine art and photography. His companies Cone Editions Press has been providing both printmaking services and educational workshops to a wide variety of artists, photographers and printmakers.
He has been at the forefront of the digital fine art market producing exhibitions in the early 90s for artists and photographers such as David Bowie, Gordon Parks, Richard Avedon and many others. Today he is the Master Printer for photographer Gregory Colbert of Ashes and Snow.
Cones company InkjetMall develops and sells inkjet inks and software systems dedicated to making high standard printing a reality for both amateurs and professionals. His Piezography brand inks are the highest standard ever developed for black & white photographic printing. ConeColor similar in chemistry to Piezography provides an alternative product to OEM which is both color compatible and supplied in a earth friendly manner.
###