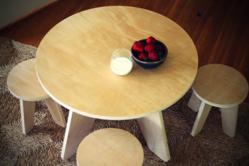 The secret ingredient is the whey
Louisville, KY (PRWEB) September 25, 2012
Sodura designs and manufactures modern, eco-friendly kids furniture at their facility in Louisville, KY, and they have just switched to greener, more eco-friendly and even lower VOC finishes. They are stronger and more durable than before. "The secret ingredient is whey, which is left over from making cheese," says Brian Scyphers, who is Sodura's General Manager.
Typically when disposed of, the by-product of making cheese, or whey, can threaten life in rivers, lakes and oceans by increasing the biochemical oxygen demand levels. When this happens, the oxygen in the water is consumed by bacteria, so that fish and other organisms may not survive.
Using whey to make low VOC finishes ends up being green in two ways. It makes use of the waste that could potentially threaten animal habitats, and uses it to create a safe, long lasting finish. In fact, the new finishes surpass every national, regional, state and county air quality regulation law.
Sodura was started in 2011 by two parents who wanted something different. Sodura focuses on modern designs to fit in any environment, using eco-friendly materials and doing it all right here in the USA.