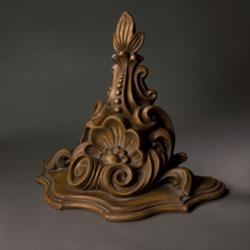 I realized that so many products on the market were harmful to both the Earth and human health.
Alameda, CA (Vocus/PRWEB) February 15, 2011
CompoClay in Northern California is giving tree huggers, architects and fashionistas reason to celebrate with the opening of their newest green home décor, garden, and building supply store in the City of Alameda. The store showcases eco-friendly construction materials, home furnishings, and garden products.
Based in Alameda's famed Park Street District, CompoClay makes beautifully-designed, high-quality products using simple resources like natural minerals, sand, and sea salt. This approach eliminates deforestation, mining, and high energy use, while also producing products with no VOC emissions, lead, formaldehyde, or other dangerous chemicals found in other competing products.
"I realized that so many products on the market were harmful to both the Earth and human health," said CEO Eric Man. "I wanted to create a product that had no negative impact on the planet, and was also something I could feel good about displaying in my home. Not only have we created an aesthetically pleasing line, but more importantly, products I feel good about using around my children."
Founded in 2004, CompoClay spent a full six years in their research and development phase before bringing its revolutionary product to the market. Man has created a viable alternative to the myriad harmful products that cause devastating problems like climate change, illnesses in children, and even cancer.
When customers walk into the Alameda CompoClay store, they are immediately wowed by the wide range of products: the stone lanterns, porcelain planters, terracotta warrior statues, wooden fireplace mantels, antique metal wall panels, and many other pieces rendered in gold, silver, and dozens of other finishes. They are further amazed when one of the knowledgeable representatives informs them that all these Northern California home furnishings are actually made of CompoClay.
CompoClay's main focus is custom pieces, ranging from small residential products to extensive lines, for national distributors. The brilliance behind CompoClay is that it is so diverse in its functional and aesthetic capabilities that it can replace countless products.
CompoClay I also affordable. "CompoClay seeks to help people go green, without having an impact on their finances," explained Andy Choi, CompoCly COO and lifelong San Francisco Bay Area resident. "We constantly strive to produce products to be competitive, or even cheaper, to competing products. While other eco-friendly companies charge a huge premium for green products, making them only viable for wealthy consumers, we want to be the company that makes 'going green' a movement of the masses."
CompoClay controls their entire line of production, from the gathering of raw material all the way through distribution and sales. Because of this, they are not only able to ensure that the product is eco-friendly every step of the way, but also that the quality stays high, and the prices stay low.
"The San Francisco Bay Area has always led the world in eco-friendly ideas, programs, and innovation," said Choi, "I feel blessed to be a part of ushering in the next frontier of such progress, with CompoClay."
CompoClay also just opened a new Los Angeles office in January and is opening a new flagship showroom in San Francisco.
For more information about CompoClay or any of their services, call them at (415) 877-4228, view them on the web at http://www.CompoClay.com, or visit them at 2536 Santa Clara Avenue in Alameda.
About CompoClay
CompoClay is an Alameda-based manufacturing and distribution company on the forefront of delivering ecological products, such as eco-friendly construction material and home furnishings to support green building in Northern California and beyond. CompoClay's goal is to deliver an exceptionally versatile, environmentally conscious product through their revolutionary, patent-pending, raw material composition known as CompoClay.
# # #