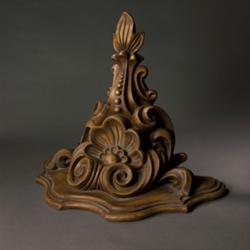 San Francisco has a strong history of ambitious innovation in eco-friendly technology, products, and practices
Alameda, CA (Vocus/PRWEB) June 17, 2011
CompoClay has just opened its second Bay Area location, in San Francisco's Financial District, to serve as a showroom and "Green Resource Center." They seek to host events with other eco-friendly organizations, and distribute information perpetuating their vision for a healthier planet.
CompoClay is the maker of a revolutionary new material that seeks to replace harmful products like engineered wood, resins, polyurethane, and others. CompoClay's material is completely sustainable, non-hazardous, and versatile for design. They design, manufacture, and sell beautiful home décor pieces such as fireplace mantels, statuary, decorative moldings, garden décor, pottery, and wall art. CompoClay, based in Alameda, has just made it much easier for San Franciscans to get their hands on some eco-friendly products.
CompoClay opened the doors of their beautiful new showroom, located in the Crocker Galleria, on May 20 with a great crowd, food, drinks, and fun. Over 100 people showed up to see what this new store was all about, and were not disappointed. The new showroom cover is in a 4,000 square foot, two-level space, and displays hundreds of unique products from CompoClay's beautiful line. CompoClay has built a "green wall" as well as an inside garden, complete with a reclaimed wood fence.
CEO Andy Choi, a Bay Area native, addressed the gathering and spoke about CompoClay's vision for a healthier planet. He thanked everyone for coming out to show their support to CompoClay, and spoke about why they chose San Francisco.
"San Francisco has a strong history of ambitious innovation in eco-friendly technology, products, and practices," he said. "We, at CompoClay, feel a strong sense of pride, but also of duty, as we seek to become the next frontier of green innovation in the city that leads the world in environmentally sustainable practices."
Choi explained that part of the duty CompoClay felt compelled to carry out was educating the public on issues of sustainability.
CompoClay is looking to join with likeminded companies, organizations, and groups to promote the causes that they share. They are actively seeking green groups, as well as building, design, and other groups to host events like mixers, speeches, seminars, and more. CompoClay wants to use their beautiful new space, located at 60 Post St. in the heart of the Financial District, to promote sustainability in building, design, and all other arenas. CompoClay has already begun planning their first two events with highly respected industry groups ASID and Philanthropy by Design.
Visit CompoClay at their new showroom to pick up a beautiful new addition to your home, learn more about what they are doing to help our planet, or to see how your company, organization, or group could work with CompoClay. Please contact with any inquiries in the office at (510)769-5179 or find them online at: http://www.compoclay.com.
About CompoClay
CompoClay is an eco-friendly manufacturing company using only eco-friendly construction material. Their current lines consist of home furnishings, building, garden, green building and statuary products. All CompoClay products are made from their patent-pending, raw material. CompoClay's headquarter office is located at 2536 Santa Clara Avenue in Alameda.
###