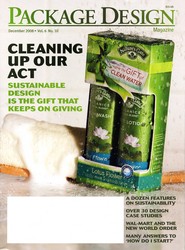 Orange, CA (PRWEB) December 29, 2008
Natural Source Printing, Inc. the nation's premier eco-friendly consultant and printer helped client Nature's Gate achieve record sales this holiday season through it's assistance with the development and eco-friendly printing of Nature's Gate's holiday gift set packaging. Nature's Gate developed three gift sets with ingredients and scents abundant in countries facing a water crisis. The products were designed to raise awareness of the global water crisis and Nature's Gate's partnership with WaterAid America, an international non-profit which helps poor communities in Africa and Asia gain access to sustainable supplies of safe, clean water.
Realizing that such an important effort warranted more than just the right product and cause, Nature's Gate turned to green consultant and green printer, Natural Source Printing for assistance with packaging to help complete the message. Natural Source Printing extended its vast packaging resources and expertise, reducing Nature's Gate's carbon footprint and water usage by producing a durable and attractive unit carton made from tree-free, water-free, waterproof FiberStone® Paper made from natural limestone. Natural Source Printing was able to achieve extremely high quality printing on the stone paper packaging using eco-friendly soy inks and an aqueous coating.
The benefits in using Natural Source Printing and FiberStone® for Nature's Gate were clear- the holiday gift sets sold out to wholesalers within just two weeks, while, at the same time Nature's Gate was able to reinforce it's image as an eco-conscious, socially responsible company.
As an established and trusted resource in the green media arena, the experts at Natural Source Printing were able to reach out to their many media contacts and secure Nature's Gate a cover story in Packaging Design Magazine's December Sustainability issue (out now). Natural Source Printing offers a free press release service and media exposure to all clients, reinforcing it's role as a valued sustainability partner and green marketing/packaging consultant.
Nature's Gate combines decades of experience in the natural products industry with modern formulations to create a line of cruelty-free products for every health and beauty care need. The company takes its earth-loving principles a step further by ensuring that its products and packaging are recyclable and made with recycled materials whenever possible. These three Holiday gift sets are packaged in 100 percent recyclable boxes made with FiberStone™ tree-free and water-free paper. This unique earth-friendly material, available only through Natural Source Printing, Inc. not only saves trees and water, it also requires less energy to produce than virgin or recycled paper, and eliminates the production of waterborne and solid wastes, as well as atmospheric emissions.
About Nature's Gate:
Nature's Gate is a company dedicated to developing personal care products based upon botanical remedies. Founded over 30 years ago using nature as the inspiration and guide, Leo and Vladimir hand collected rainwater, blended it with natural herbs from their herb shop, and created the very first Rainwater Shampoo. We continue to be inspired by our surroundings and create formulas that combine proven botanical, herbal and floral treatments with modern ingredients and techniques. All of our products reflect our ongoing efforts to preserve the earth's natural resources and develop sustainable sources of clean water. Through our partnership with WaterAid America, Nature's Gate helps poor communities in Africa and Asia plan, construct and maintain rainwater harvesting systems to deliver sustainable supplies of safe, clean water.
About WaterAid:
WaterAid is the world's leading independent non-profit organization dedicated exclusively to working with people in the world's poorest countries to improve access to safe water, sanitation and hygiene education. Founded in 1981, we operate throughout Africa, Asia and the Pacific region and have helped more than 11 million people gain access to safe water through low-cost, sustainable projects that can be locally managed and maintained. With a goal of expanding operations to assist 1.3 million people to gain access to safe water and 1.5 million people to gain sanitation this fiscal year, it has earned a worldwide reputation for its effectiveness and leadership and garnered numerous national and international awards, including the prestigious Stockholm Water Prize. To learn more, please visit http://www.wateraidamerica.org.
About Natural Source Printing:
Natural Source Printing offers its clients consulting on packaging design and material sourcing as well as low cost sustainability training, and eco-friendly printing and packaging. Reduce, Recycle, Renew have been key features of Natural Source Printing's products. FiberStone® Paper is unique to Natural Source Printing. Other examples of eco-friendly packaging alternatives are NSP's re-pulpable fiberboard POP displays, biodegradable plastic bags, and its low shipping weight, high strength recycled/recyclable shipping/export pallets. To find more information about FiberStone®, eco-materials, or Natural Source Printing's training and consulting packages please contact them at 1-866-551-4NSP or visit http://www.NaturalSourcePrinting.com.
###