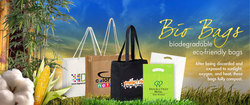 The facts remain that our planet is in an environmental crisis, and it is with our collective individual actions that we can make our planet a better place one decision at a time.
Pompano Beach, FL (PRWEB) October 7, 2010
The fall equinox has arrived again, and the days are getting shorter, but for the team at Factory Direct Promos, the most critical time of the year is just beginning. The year of 2010 has been a timely reminder for all those who care deeply about the environment. From the tragic Gulf of Mexico Oil Spill to further increases in average daily temperature resulting from Global Warming, increased pollution, and a human population that is growing exponentially, there has never been a more important time for individuals and organizations to take action by contributing to the solution, rather than the problem.
Jason Tunick, owner of Factory Direct Promos, which is a leading supplier of green promotional products for businesses, sees this devastating trend and wants to see monumental paradigm shifts in the way we treat our planet. Since 1996, FDP has been committed to finding and using renewable resources in their design, development and manufacturing of premium eco friendly promotional products to help countless companies improve their brand and image, while also helping create a clean and healthy planet for current and future generations. Jason explains that the last quarter of the year is the best opportunity for individuals and organizations to reduce their overall negative impact on the environment.
"We can't underestimate how much we can accomplish as individuals and collectively in the final quarter of 2010. The facts remain that our planet is in an environmental crisis, and it is with our collective individual actions that we can make our planet a better place one decision at a time. For example, we can choose to use reusable green bags when shopping instead of a plastic bag that will just end up in a landfill. I got into the business to business realm because I saw an opportunity to help companies promote their brand while also raising awareness for these critical environmental issues our society is facing today. With the approaching holiday season, the sky is the limit for the amount of people businesses can reach before this year is over."
FactoryDirectPromos.com features over one hundred eco promotional items such as stainless steel water bottles, non-woven polypropylene reusable shopping bags, RPET recycled grocery bags, bamboo pens, seed paper notebooks, recycled plastic USB drives, seed paper products, 100% biodegradable corn products and more. He has just extended a full line of biodegradable bags comprised of jute, cotton, bamboo and other organic materials. As opposed to traditional waste, when biodegradable materials are exposed to sunlight, oxygen and heat, they are converted into water, carbon dioxide, mineral salt, and biomass. This means that no harmful residue will remain in the soil once discarded in a landfill or anywhere else. Eco bags are very fashionable and last a lifetime. By branding eco products, businesses can empower their customers, employees, vendors, partners and colleagues to go green.
These durable promotional products can be custom imprinted with your company logo, message and with many products, even your colors. Check out the brand new "yourBag" customization page on FactoryDirectPromos.com to embroider your personality and company mantra on each bag or bottle. This section allows you to choose your bag material, size, colors and patterns, as well as the choice of adding features like handle type, handle length, velcro, snaps, zippers, pockets, and attachments such as carabiners, lanyards and keychains. This gives business owners all the power in creating a bag that is best for your company and target audience. Jason is able to provide a quick turnaround time on the imprinted custom bags of 60 days, while in-stock reusable promotional bags are shipped within a week. There's also a "yourBottle" section (similar to yourBag) which allows you to design custom stainless steel water bottles for your organization.
Factory Direct Promos understands our planet's environmental health issues are growing, not shrinking. Not only is 2010 shaping up to be the hottest on record according to the NY Times, our "throw away society" is compounding the problems by trashing huge percentages of what we buy and not recycling nearly enough. Eco friendly promotional products can be a convenient and positive daily reminder for all of us to reduce, reuse, and recycle whenever the opportunity presents itself. Factory Direct Promos is a pioneer of this paradigm shift and you can follow Jason's efforts on his blog at http://www.reusablebagblog.com. Throughout the year of 2010, the FDP team has blogged about environmental issues ranging from deforestation to the Gulf Oil Spill, disposable bag waste problems, plastic bag bans, and even political issues such as climate legislation. Visit the blog and join the discussion today. Your actions and voice can make all the difference in the world.
###