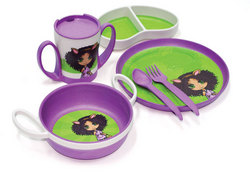 I realized that the current tableware wasn't giving them a healthy, or sustainable eating experience, and the idea for Rooware was born.
Brooklyn, NY, (PRWEB) September 9, 2009
Rooware is an eco-friendly children's tableware collection made from an innovative bio-based sustainable plastic, that is also microwaveable and dishwasher safe. It is the only eco-friendly children's tableware that features characters designed exclusively for children. These unique characters, called the Earthsaverz, were created by Rooware to help raise the awareness of environmental concerns within this age group. These characters will appear on the tableware, as well as in short, animated stories.
"I was very concerned about exposing my children to toxins in plastics", says Rooware founder Keva Niver, a Brooklyn, New York mother of 4. "I realized that the current tableware wasn't giving them a healthy, or sustainable eating experience, and the idea for Rooware was born." Upon previewing the Rooware product line, Julie Jorsling of Brooklyn, New York said, "I love that the artfully designed children's characters are appealing to boys and girls. And, that they can select different accessories for the characters to literally design their own set of dishes. We can't wait to make our first sets!"
Meet the Earthsaverz: Kai, Lexi, Jaz and Zach. Four fun-loving children that live on the same block, in a very urban environment, much like Brooklyn, New York. When these children heard that the earth was sick, they formed a club called the Earthsaverz to try and protect their world. Through a series of adventures, these young superheroes do their part to make the earth a healthier place to live, and encourage children around them to do the same. Their adventures help little ones learn about environmental issues in a fun way, and will be available on DVD, as a series of short animated episodes in Feburary 2010. The first episode will also be available for viewing on the company website at http://www.rooware.com, with a special access code included with tableware purchase.
The Rooware tableware collection includes character plates, bowls, cups and utensils that grow with the child. Snap in the divider insert when the child doesn't want foods to mingle on the plate. Pop it out when that is no longer an issue. This same insert does double duty as a neat space for condiments when dipping is a mealtime requirement. The bowl and cup handles snap off when an extra hand is no longer necessary. The trainer top is easily removable, transforming the cup into a big kid cup. Debuting in retail stores nationwide and online at the end of October. Plate, $19.95; Bowl, $14.95; Cup, $12.95, Utensil set, $7.95. Tableware sets can be customized by choosing outfits and accessories for the characters in a fun dress up game, exclusively online at http://www.rooware.com and will retail for $48.95.
Rooware was founded by Keva Niver in 2008 as an eco-friendly, child-centric tableware company. The product line was conceived in response to parental concern over exposing children to toxins from plastic. The Earthsaverz characters featured on the tableware, and in animated adventures, will expose children to an array of environmental issues and encourage them to take action, thus creating a healthy future for our children and a happier planet.
###