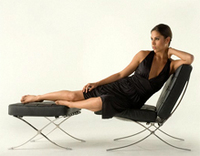 Steve and I got together and looked at every room of our homes for four months and came up with the plan for Zuo Modern. Here we are three years later
Atlanta, GA (PRWEB) June 26, 2008
Finding new manufacturers that offer customers great value and give back to the environment takes precedence when deciding to add a new furniture line at Wholesale Furniture Brokers. A growing number of manufacturers are approaching Wholesale Furniture Brokers to add their products to their website due to their acknowledged reputation, search engine prominence, and renowned rapport with new and existing customers as well as numerous shipping companies. Zuo Modern is being introduced at Wholesale Furniture Brokers as being the modern solution for your chic home. Their eco-friendly practices and modern style of furnishings give Zuo Modern a chance to reach the conscientious shoppers at Wholesale Furniture Brokers.
Zuo Modern's furniture line includes office, bar, dining, occasional, and outdoor furniture with a modern contemporary design. Designers at Zuo Modern are currently designing new bedrooms and sofas with their trademark innovation and modern styles. Wholesale Furniture Brokers plans on adding the new, modern bedroom furniture and sofas to their website as soon as they are available. The furniture available from Zuo Modern is designed with clean and prevailing lines and shapes with a blend of classic colors. Think Le Corbusier and Ibiza loungers, Pod Chairs, stainless steel and chrome, leathers in black and white; all the classics. The price is also a highly competitive selling feature.
The new modern furniture available from Zuo Modern will give Wholesale Furniture Brokers more diversity with their own product line. "Low prices, quality, and variety of choice are the three most important factors while shopping for furniture online." says Wholesale Furniture Brokers marketing manager, Matt Holmes, when asked how Zuo Modern fits into Wholesale Furniture Brokers product line. "The low prices and diversity of the Zuo Modern line, along with the high quality designs will target the tastes of a new segment of shoppers and give our existing customers another reason to buy here again."
Many companies have developed different practices to take part in keeping our environment "green". Zuo Modern is one of the companies that is committed to protecting the environment. From manufacturing to packaging their furniture from their plant in China, Zuo Modern feels their methods are not only functional, but also environmentally friendly. Zuo Modern has applied for ISO 1400 certification to show that they follow international standards for their environmental management systems. Those systems include replacing trees used by their manufacturing plant, not using tropical wood listed in the Convention on International Trade in Endangered Species (CITES), eliminating ozone-damaging Freon, not using any type of formaldehyde, and maximizing the use of powder paint finishes on metal parts.
Zuo Modern's state-of-the-art chrome plating facility in China demonstrates the effectiveness of their environmental management systems. Their fully automated facility controls the water purity during chrome plating to end up with water as clean as the water that flows from the faucet in your home. Zuo Modern also fully supports the elimination of Chlorofluorocarbons (CFC's) to help prevent the ozone layer from breaking down. Since 2005, Zuo Modern has used a high quality, non-hazardous powder paint coating process to create all of their stunning finishes on chairs, home desks, filing cabinets, and barstools. Zuo Modern uses recycled cardboard with water-based imprints to protect and ship their products to their customers. Showing responsibility to do their part for the environment, Zuo Modern also manufacturers a wide variety of metal and wood furniture using recycled materials.
Recently opening a new warehouse in Montreal, Canada, Zuo Modern also has four other warehouses around the world including Oakland and Miami in the US, Guadalajara in Mexico, and Guangdong in China. "Steve and I got together and looked at every room of our homes for four months and came up with the plan for Zuo Modern. Here we are three years later," said Zuo Modern president, Luis Ruesga when asked how his company got started.
Wholesale Furniture Brokers is enthusiastic about the new furniture lines because of the environmental practices of Zuo Modern, and they can ship the modern furniture easily to customers in the US and Canada.
The conscious effort to add even more eco friendly manufacturers to Wholesale Furniture Brokers will not only give customers more shopping selections for "green" furniture in Canada and the US, but will also make other manufacturers realize they need to look at their own practices to make environmentally conscious decisions to conserve the environment.
About Wholesale Furniture Brokers
Wholesale Furniture Brokers started selling furniture online in 2002 using a 'Click and Mortar' concept that utilizes an affiliation of more than 30 independently owned furniture stores in the USA and Canada. For Wholesale Furniture Brokers' part to conserve the environment, they exercise "green" practices with a reduce, reuse, and recycle policy in their offices, and make a conscious effort to select ecologically responsible vendors. Furniture businesses interested in gaining access to eco friendly lines of products including Zuo Modern can sign up to Wholesale Furniture Brokers' furniture dealer and vendor program.
###