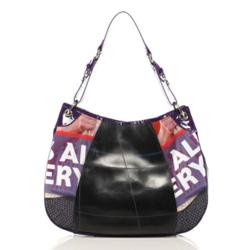 Bringing on new brands like Matt and Nat, Passchal and Crystlayn Kae enable customers to look good while doing good.
Fairfax, VA (PRWEB) April 21, 2011
Angel Handbags is announcing the redesign of their website, angelhandbags.com, featuring new eco-friendly designers and focusing exclusively on eco-friendly and animal friendly brands. The site's redesign makes it more user-friendly and easier to shop eco-friendly handbags and animal friendly bags as well.
Consumers are becoming more aware of the products they're purchasing, where they come from and how they are made. If given the option, consumers would more often choose eco-friendly products over others. It's a lifestyle that more and more consumers are opting for—organic, eco-friendly, animal friendly.
"After turning vegan in May of 2010, I realized my business needed to change as well. The new focus on eco-friendly and animal-friendly brands will attract a whole new base of customers and we are excited to introduce them to the Angel Handbags experience!" states Reshon Anderson, owner of Angel Handbags.
Angelhandbags.com boasts a new design and a lighter color palette in soft pinks and creams. The site is also easier to navigate, allowing environmentally conscious consumers to find what they're looking for faster. Consumers can shop by brand, color, style, price, and special deals.
Eco-friendly designers, Amykathryn, Crystalyn Kae, and Passchal handbags are new additions consumers can browse and shop. With the Angel Handbag's new site design, you can easily find these new designers under "Featured Brands."
"Bringing on new brands like Matt and Nat, Passchal and Crystlayn Kae enable customers to look good while doing good. All of the designers focus on eco-friendly practices, so you can buy a beautiful designer handbag guilt-free! We will be bringing on many more designers in the coming months," continues Anderson.
In honor of Earth Day, Angel Handbags will be running a special for 20% off any handbag using the discount code EARTH. There is also a low $5.95 shipping rate and also free shipping for orders over $75.
To take advantage of Angel Handbags Earth day special or to browse new eco-friendly handbags, visit angelhandbags.com.
About Angel Handbags
Founder Reshon Anderson started selling handbags online in 2007. Since then Angel Handbags has continued to grow and expand, now offering eco-friendly designers' handbags exclusively. Anderson has over 12 years' experience in online marketing and four years experience in retail. She graduated from Stanford University with a BA and MBA.
# # #