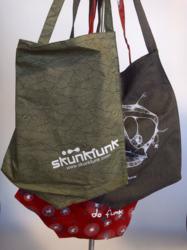 Pillow fights can be fun and sexy—just make sure your pillow is soft, and don't hurt anyone
San Francisco, CA (PRWEB) January 14, 2012
What started in 2006 as a Valentine's Day flash mob at Downtown San Francisco's Justin Herman Plaza is now the Great San Francisco Pillow Fight. Skunkfunk, purveyor of eco-friendly fashion in Manhattan and San Francisco, is helping cupid's warriors stylishly gear up for battle. Starting today, customers who say "Pillow Fight" will get half off this season's fashions.
The Manhattan and San Francisco clothing store Skunkfunk (also online at http://www.shopskunkfunk.com) offers urbanites eco-friendly fashion, including convertible clothing that can be instantly redesigned for different occasions. What starts as an action-ready pillow fighting outfit can be transformed into an evening ensemble fit for a romantic dinner after the battle.
Reusable bags made from Skunkfunk fabric remnants, free with the purchase of two clothing items, complete the look—and are a great way for fashionistas to smuggle their fluffy weapon of choice into the fray.
"The only 'down'side of spending Valentine's Day in the City is the Great San Francisco Pillow Fight at Justin Herman Plaza," said Kyle Retzik, owner of Skunkfunk North America. "Pillow fights can be fun and sexy—just make sure your pillow is soft, and don't hurt anyone."
San Franciscans are invited to stop by Skunkfunk's Valencia or Haight locations to find the perfect Valentine's Day outfit. The Spanish-born purveyor of fine clothing is applauded for using eco-friendly fabrics and ethical distribution practices that harmonize with the environment.
Skunkfunk works hard to bring positive change to three areas of their fashion industry: people, planet and prosperity. Textiles are carefully chosen based upon their impact to the environment, and include recycled polyester, organic cotton, and Lyocell.
RECYCLED POLYESTER
Polyester comes from crude oil, a natural scarce resource with a low renewability ratio. Recycled polyester is processed in a less energy intensive way than creating virgin fibers, and it's a perfect option to give a second life to post-industrial remains or post-consumer plastic waste.
ORGANIC COTTON
Organic Cotton is a natural fiber cultivated without the use of synthetic chemicals, such as pesticides or fertilizers, and is not genetically modified.
LYOCELL
Lyocell is a light and silky textile made from regenerated cellulosic fiber that comes from eucalyptus wood pulp. The biodegradable fiber is extracted under a sustainable closed-loop process that saves energy.
For more information about holiday shopping at Skunkfunk, ShopSkunkFunk.com, or any of Skunkfunk's products, call (415) 692-7678, go to http://www.shopskunkfunk.com, or visit one of their three stores located at 1475 Haight Street (Haight-Ashbury) and 302 Valencia Street (The Mission) in San Francisco or 181 Orchard Street (SoHo) in New York City.
About Skunkfunk
Skunkfunk is a Spanish-born New York and San Francisco clothing store that specializes in environmentally-friendly women's, children's and men's clothing. Skunkfunk has stores in San Francisco, New York City, various European cities and online. Their clothing is also sold in multi-brand stores throughout the United States.
###