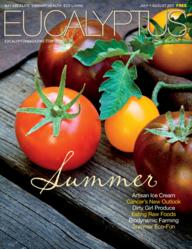 We are a bridge between sickness and health and we utilize the power of local positive news to make a difference in our communities by being a credible resource and connection.
Los Gatos, CA (Vocus/PRWEB) July 19, 2011
Eucalyptus magazine, the only lifestyle magazine that focuses exclusively on health, wellness and green living in San Francisco Bay Area, has just released its July-August 2011 issue. Feature stories include articles on complementary cancer treatments, artisan ice creams, and biodynamic farming. In the Food Department, the "Healthful Eating" column explores raw foods, and supplements an upcoming raw food lecture event and cooking demonstration. The Green Tips section gives pointers on summer eco-fun. The new issue of Eucalyptus is now online at http://www.eucalyptusmagazine.com/summer and available from over 350 Bay Area merchants.
"I am very excited to bring you the summer edition of Eucalyptus magazine, and I am especially proud of the feature story 'Fighting Cancer on All Fronts' by Katherine Johnson," said Michaela Marek, publisher and founder of Eucalyptus Magazine. "It sealed my belief that this editorial place is exactly where Eucalyptus belongs. We are a bridge between sickness and health and we utilize the power of local positive news to make a difference in our communities by being a credible resource and connection. I hope you will enjoy the article and this whole issue as much as I do; please share it with your colleagues, friends and family."
The feature on alternative cancer treatment highlights efforts of Bay Area health practitioners to supplement regular treatment with nontraditional practices, including energy therapy, massage, meditation, hypnosis, acupuncture exercise, and social and psychological support. The Palo Alto Medical Foundation, for example, offers complementary Healing Touch services to oncology patients. Stanford Hospital offers a wide range of alternative treatments and created the Living Strong, Living Well exercise program, which helps cancer patients maintain physical strength. These alternative treatments are popular—a Kaiser Permanente study found that 86% of cancer patients seek some sort of alternative treatment after their diagnosis.
"Alternative therapies also enhance self-esteem and connect patients to support networks, helping them to maintain a positive outlook and a high quality of life through diagnosis, treatment, and survivorship," according to the article.
Another feature in the new issue profiles two Bay Area artisan ice cream makers who use organic ingredients. The Penny Ice Creamery in Santa Cruz uses only organic ingredients, and all of its containers are made of recycled materials and compostable. Three Twins Organic Ice Cream, manufactured in Petaluma, is the nation's largest dedicated organic ice cream factory. Three Twins gets its cream from a local organic yogurt manufacturer, assuring that none of the milk goes to waste.
Biodynamic farming is the topic of one of the feature articles. This method, which uses a "whole-farm system" to preserve soil quality, involves composting, planting seeds from plants grown on-site, and avoiding chemicals and fertilizers. Biodynamic farming also uses ancient farming practices including the zodiac and planetary alignment. The process is demanding, but the practitioners say the proof is in the taste.
The Food Department explores the benefits of raw foods. The article is a companion piece to a Eucalyptus Dinner Series event on August 2nd at the Stillheart Institute in Woodside. Health advocate Kevin Gianni will give a lecture about raw foods, nutrition educator Joni Sare will demonstrate food preparation, and guests will enjoy a tasty, nutritious raw meal.
The issue offers green tips on summer activities, including alternatives to bug sprays that contain harmful DEET, natural sunscreens, grilling with less pollution, and more. Green Tips also air on two radio stations: MIX 106.5 and 94.5 KBAY.
In honor of the summer issue, Eucalyptus is offering a subscription sale: 50% off a one-year subscription. Subscribers can get 6 issues for only $12. More info at http://www.eucalyptusmagazine.com/subscribe.
For more information about the summer issue of Eucalyptus, or for information about any of Eucalyptus magazine's products or services, call them at (408) 335-4778 or view them on the web at http://www.eucalyptusmagazine.com.
About Eucalyptus
Eucalyptus is the San Francisco Bay Area's resource for green and health-conscious lifestyles. Through the print publication, website and networking events, Eucalyptus shares knowledge and inspires readers to celebrate their health, support local businesses and surrounding communities, and protect the environment. Since its first publication in 2009, Eucalyptus has been well-received by the health-conscious and green living community and industry. Eucalyptus is the winner of the 2010 Apex Awards for Publication Excellence for green publications and the 2010 Gold MarCom Award for green publications. The magazine is available at over 350 locations in the Bay Area and online at http://www.eucalyptusmagazine.com.
# # #