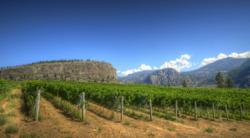 "We wanted to create a fun, educational tour that let's people relax while enjoying the serene natural beauty of the South Okanagan and the delicious wines being crafted from the surrounding land," says Greg Byron, who operates Great Horned Owl Eco-Tours.
Osoyoos, British Columbia (PRWEB) July 25, 2012
Great Horned Owl Eco-Tours has teamed with Covert Farms and three of the regions top-rated wineries to create the ultimate multi-adventure day for outdoor enthusiasts with a thirst for exploration, organic foods and wine tasting.
This trio of sensory goodness kicks off with a guided, walk through Canada's only desert, the Antelope Brush Eco-system. Dry grasslands, Sagebrush and many "species at risk" call this desert home, and are the product of a dry, warm climate and sediment left behind by ice age glaciers. A hot spot for birding, the Antelope Brush Ecosystem is known for its wealth of wildlife, such as Stadefoot Toad, Hoary Marmot, Barred Owl, Behr's Hairstreak (Butterfly), Mariposa Lily, California Big Horn Sheep, Lark Sparrow and the occasional spotting of a Western Rattlesnake.
The day continues with a private tour of 700-acre, Covert Farms. Here participants will be introduced to crop rotation, green manure, compost and biological pest control. They'll learn about issues surrounding food security and how it may be possible to achieve a "Hundred Mile Diet". Visitors to the farm are also impressed with the farms stunning view of a regional landmark, McIntyreBluff, which marks the northernmost point of the Great Basin Desert. The farm visit will conclude with a tasty lunch to be served on the outside terrace at the farms Market Restaurant.
Touring the splendour of British Columbia's wine country continues with stops at three unique vineyards where there's plenty of time for sniffing and sipping savory wines. Regional varietals include award-winning Merlot, Chardonnay, Gewürztraminer and Syrah.
The Complete Okanagan Experience Tour is a sure winner with birders, nature enthusiasts, wine lovers, photographers and eco-adventurers looking for an excursion with substance. Dates are on-going, August 1 - October, 15, 2012. Cost: $139 per person, plus taxes and tasting fees (where applicable).
Great Horned Owl Eco-Tours is a nature-travel company based in Osoyoos, British Columbia. They strive to support ecotourism throughout Canada, providing small-group guided journeys. Since its inception, Great Horned Owl Eco-Tours has established itself as the finest sustainable tour operator in the Okanagan, facilitating exceptional tours that create memorable and authentic experiences, which are relaxing and profound in every aspect.
Learn more about eco-adventures with Great Horned Owl Eco-Tours by visiting their website at http://www.okanaganecotours.com or request more information by email, info(at)okanaganecotours(dot)com or calling toll-free: 1.877.495.0695.
More about Greg Byron of Horned Owl Eco-Tours
Situated in the South Okanagan in Osoyoos (35min from Penticton), Great Horned Owl Eco-Tours was founded by Greg Byron. Greg's passion for the outdoors, experience with Scouting Canada, Burke Mountain Naturalists, Oliver-Naturalists, South Okanagan Rehabilitation Centre for Owls and the Desert Society, have fuelled a lifelong commitment to the environment and environmental issues. He has used his knowledge and love for the outdoors to build a high-quality professional tour agency focusing on safety and excellent customer service; while staying committed to Best Practice delivery methods, environmental stewardship and preservation.
Hi-res photos available on request.
For further information and media inquiries, please contact:
Greg Byron
Great Horned Owl Eco-Tours
http://www.okanaganecotours.com
1.877.495.0695 info(at)okanaganecotours(dot)com